Build Your Own Bracelet (BYOB)
Build Your Own Bracelet (BYOB)
This product is aligned with 5 values
BYOB - Build Your Own Bracelet! Put your own personal twist on any one of my bracelet designs or I can create something one-of-a-kind just for you! Simply purchase this option, make sure to include contact info (email preferred) and I will contact you right away to discuss what you would like. Please note that not all stones you want may be available but we will work that out over our conversations. I LOVE helping others bring their vision to life. If you would like to discuss your ideas prior to purchasing, just email me at jensonnaturaljewelry@gmail.com Scroll through the pictures to see some of the original creations made for others. The starting price is $39.95 but may go up depending on what you want for your specific bracelet(s). Mix and match stones of your choosing. Add lava stones so your bracelet can act as an essential oil diffuser. Add additional metal accent beads.
DOMESTIC SHIPPING
Domestic orders are shipped via USPS Priority mail. All ground orders are shipped out within 2-3 business days of the receipt of the order, unless otherwise noted. Free US shipping is available for orders over $50.
An email confirmation will be sent once payment is received, followed by an email containing tracking information for delivery. Please note: USPS delivery dates are not guaranteed. 
INTERNATIONAL SHIPPING
Jenson Natural Jewelry ships all over the world. Shipping fees and times will be calculated at discount and all custom fees, duties, and taxes are the responsibility of the customer. 

Returns & Exchanges
We want you to be completely satisfied with your purchase. You may return your purchase within two weeks of purchase date (in store) or delivery date (web orders) to receive a full refund less shipping costs. Jewelry must be returned in its original condition, unworn and with its tags attached. Please enclose a copy of your receipt or packing slip with the return. Please send your return with an insured courier (e.g., FedEx, UPS, USPS Parcel Post) and retain your original receipt. Jenson Natural Jewelry is not responsible for items damaged or lost in transit.
Repairs
If you require a repair of one of your Jenson Natural Jewelry pieces, please mail it to the following address:
Jenson Natural Jewelry
Attn: Repairs
776 Henslow Ave N
Oakdale, MN 55128
You are encouraged to email us prior to sending your piece in for repair to discuss the repair costs. Some items can be fixed at little to no cost while others may require more time and therefore be charged a higher price. At a minimum, the customer will pay for the shipping fees.
For your security, please send your repair with an insured courier (e.g., FedEx, UPS, USPS Parcel Post) and retain your original receipt. Jenson Natural Jewelry is not responsible for items damaged or lost in transit.


Privacy Policy
Jenson Natural Jewelry is committed to protecting your privacy. We collect personal information from you for purposes of identification and only if you voluntarily submit it to us. We use that information to process your order and to enhance your shopping experience. We will never sell, loan, rent, trade or give away your name, or email address. We use email to communicate with you about your order and to let you know about special product introductions and other Jenson Natural Jewelry news.
Ordering from Jenson Natural Jewelry is safe and secure. The Jenson Natural Jewelry website has security measures in place to protect the loss, misuse, and alteration of the information under our control. Once you click on "Check Out," you will be on a secure server that uses Secure Socket Layer (SSL) encryption technology. Your credit card information is encrypted when it is transmitted to us and we do not store your personal credit card information.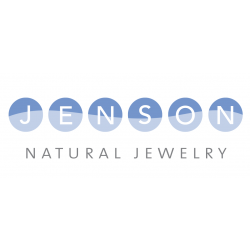 AboutMy name is Kristine Jenson and I am the designer and owner of Jenson Natural Jewelry. The natural world has always been a passion of mine. I grew up in Minneapolis, Minnesota and as a child, my parents would take me out of the city and head to t...