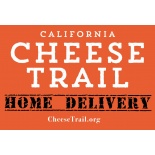 California Cheese Trail
California artisan cheeses, delivered.

Add Review
California Cheese Trail
Created in 2010, the California Cheese Trail has been a leading advocate for small-scale and artisan cheesemakers. Created by Vivien Straus (who helped launch her family's pioneering organic dairy brand), our printed tourism map and mobile apps have helped generate a whopping 50%-80% of sales for many of California's 80 cheesemakers. In 2021, as a response to Covid shutdown which decimated our cheesemaking community, we introduced Home Delivery curated collections - we're a small business with deep roots and hands-on experience in supporting family farming, sustainable, artisan producers. Check out this feature in National Geographic, and this podcast interview on local NPR. At this time, we ship to the USA only, excluding HI, AK and territories.
OUR VALUES
USDA Organic
Certification ensuring the organic status of agricultural products.
Compostable
Objects which are capable of breaking down and returning to the natural environment without any negative impact.
Biodegradable
Objects which are capable of decaying and potentially contributing to a given ecosystem.
Empowers Women
Organizations, companies, and spaces which support gender equality and women's rights.
Family Business
A small business owned by an individual or family as opposed to a corporation.
Locally Sourced
Ingredients grown within miles of where they are consumed, which reduces travel footprint and allows ingredients to be fresher.
USDA Certified Organic
Products that are verified organic at all steps between the farm and the store.
GLOBAL GOOD
We actively work to meet the following UN Sustainable Development Goals:
Sustainable Cities And Communities
Life On Land