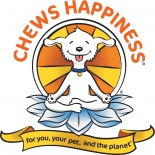 Chews Happiness®
The first all-natural, highly digestably degradable & durable dog chew!

Add Review
Chews Happiness®
Chews Happiness® is a social enterprise and business handcrafting sustainable, beyond organic, safe dog chews supporting indigenous herders and small farmers. Our chews are housed in plant-based packaging. We are a zero carbon certified company. We give back: 1% To The Planet. 1% to animal rescue.


Resulting from eight years of R&D, DigestaBone® chews support Digestive/Joint Health. DigestaBone® is the first all-natural, highly digestibly degradable, durable dog chew. It is designed with safety in mind. Specifically, unlike many other chews on the market.

DigestaBone®:
Degrades and does not expand in a dog's digestive tract, minimizing GI obstruction risks.
Does not break into dangerous sharp shards.
Softens as a dog chews on it, minimizing the risk of injury to a dog's teeth or gums.
OUR VALUES