Cinnamon and Silver Handmade Beaded Jewelry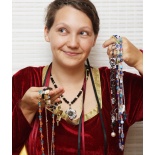 Cinnamon & Silver Jewelry
Semi-Fine Handmade Beaded Costume Statement Jewelry.

Add Review
Cinnamon & Silver Jewelry
Cinnamon & Silver proudly handcrafts beaded, vintage-inspired artisan jewelry, costume jewelry, and OOAK fashion jewelry.

Working with gemstones, Swarovski Austrian crystals, glass beads, pearls, ribbon, and charms, our one-of-a-kind jewelry pieces are colorful, inventive, and versatile--just like Grandma's jewelry box! Entirely designed, handmade, photographed, packaged, and shipped by "Princess Cinnamon" from a smoke-free, pet-friendly home studio in Dayton, Ohio since 2012! We welcome custom projects, costume jewelry repair, and wholesale partnerships.

OUR VALUES
Alcohol Free
Food and beverage created without the presence of alcohol.
Aluminium Free
Cosmetic and personal care products free of aluminum powder, which is used for pigment and thickening products
Bacteriacide Free
Made without chemical substances that prevent bacteria growth; bactericide is found in antibiotics, antiseptic, and disinfecting products.
Casein Free
Products not containing casein, one of the principal proteins found in dairy.
CFC Free
Products not containing carbon, fluorine, or chlorine, compounds often found in refrigerants and cleaning materials.
Chlorine Free
Products made without the presence of chlorine.
Dye and Color Additive Free
Food or cosmetic products without dye, pigment, or color enhancing substances
Gluten Free
Products not containing gluten, a combination of proteins found in wheat which is known to cause sickness in those with Celiac disease.
GMO Free
Products made without the presence of organisms that have been either created or altered in a laboratory.
Non-Toxic
Products designated to be edible or non-poisonous to consume.
GLOBAL GOOD
We actively work to meet the following UN Sustainable Development Goals:
Zero Hunger
Quality Education
Reduced Inequalities
Sustainable Cities And Communities
Responsible Consumption And Production