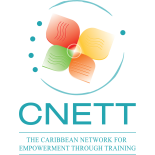 CNETT
Supporting the Caribbean Community and Diaspora by creating Caribbean Conscious Businesses, Leaders and Lifestyles. Business Associate for Mindvalley All Access Quest - affordable access to the best personal transformation programmes Innovations Audits and Strategy Development

Add Review
CNETT
The dynamic and pioneering CNETT-HUB is transforming the micro-business (solo- entrepreneurs) ecosystem in the Caribbean with an innovative community support HUB.

At CNETT, we believe that every authentic business is a reflection of the values, vision and mission of the Founder and we support the Founder to successfully scale the business in alignment with personal mission and passion..

WE focus on empowerment, entrepreneurship and employment through personal development and business innovation.

"Let the beauty of what you love, be what you do.' Rumi






OUR VALUES
Empowers Women
Organizations, companies, and spaces which support gender equality and women's rights.
Family Business
A small business owned by an individual or family as opposed to a corporation.
Made by Hand
Products/goods which are made uniquely by an individual as opposed to mass produced.
Made with Love
Products/goods that are produced with special attention and care, as if made for a loved one.
Plants a Tree
Moving tree seeds to specific locations for forestry and other purposes.
Supports A Developing Country
Organizations/businesses that show financial and other support to a developing country/countries.
Woman Owned Business
Businesses which are owned and operated by solely women.
GLOBAL GOOD
We actively work to meet the following UN Sustainable Development Goals:
No Poverty
Quality Education
Gender Equality
Decent Work And Economic Growth
Industry, Innovation And Infrastructure
Responsible Consumption And Production
Climate Action
Partnerships For The Goals