Tongue cleaning, also known as tongue scraping, is the daily Ayurvedic ritual of gently scraping unwanted toxins & residue off of the tongue. Traditionally this practice is done with copper for its powerful antiseptic effects. Tongue cleaning eliminates the bacteria which causes bad breath, draws ama, or toxins, out of the body & improves digestion by stimulating the taste buds. Experience the ultimate oral hygiene tool! HOW TO USE Directions: This daily ritual is best done first thing in the morning, prior to eating or drinking. Hold the tongue cleaner on either side. Extend the tongue out of the mouth & inspect for a coating. Place the tongue cleaner towards the back of the tongue & gently scrape the ama or film forward & out of the mouth. Wash the ama off of the tongue cleaner & repeat until the tongue is clean. Follow with PAAVANI Oil Pulling Oil. 100% COPPER. MADE IN INDIA. TRAVEL POUCH INCLUDED. PACKAGED IN COMPOSTABLE PACKAGING. If irritation occurs, discontinue use.
SHIPPING & RETURNS:
Please expect your order to ship within 1-3 business days.
Your happiness is important to us! Therefore, we want you to be completely satisfied with your purchase.
If you are not 100% satisfied, please feel free to e-mail us at CustomerService@PaavaniAyurveda.com to make a return or exchange.
All returns/exchanges are subject to the following conditions:
-Must be returned within 30 days of the purchase date.
-Product must have at least ¾ of its contents remaining.
-Please allow up to 10 business days for an exchange or refund to be processed. Once finalized, an e-mail will be sent notifying you of the status of your refund.
-We do not refund initial shipping & handling charges for items returned.
-For any return or exchange, you are responsible for all shipping & handling costs. If the package does not reach us, we will be unable to complete the refund/exchange.
SEND RETURN TO:
PAAVANI Ayurveda
12540 Loma Rica Drive
Grass Valley, CA 95945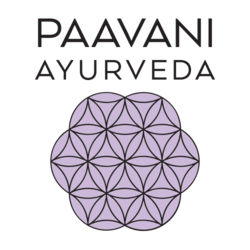 ANCIENT AYURVEDA FOR THE MODERN WORLD PAAVANI Ayurveda is an artisan line of small-batch, pure, organic health & skincare products formulated in Northern California. Handcrafted with the wisdom of Ayurveda, our products offer ancient traditions ...