Environmental Law Center — Pro Bono Representation for Members - Bozeman, MT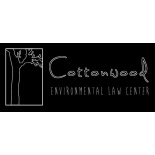 Cottonwood Environmental Law Center
Cottonwood Law is a group of free-thinking rabble rousers dedicated to protecting the people, forests, water, and wildlife of the West.

Add Review
Cottonwood Environmental Law Center
Cottonwood is a small organization having a disproportionate impact on the American West. 

We are Bozeman's only local, homegrown environmental law center. We have been using the power of the law for more than 10 years to protect millions of acres of land and hundreds of animal species in the western United States.

We believe that conservation is bipartisan. We file strategic lawsuits against both Democrats and Republicans that start out locally but almost invariably have national impacts. We represent our Members and other conservation organizations pro bono.

In addition to the law, we use our hands, public outreach, and partnerships with Government, Native American Tribes, and other conservation organizations to monitor and protect what is important to us all. We bring students and Cottonwood members into the field to learn about our efforts.
OUR VALUES
1% for the Planet
Organization which helps to protect the environment and its resources through the donation of 1% of a company's sales.
GLOBAL GOOD
We actively work to meet the following UN Sustainable Development Goals:
Clean Water And Sanitation
Sustainable Cities And Communities
Climate Action
Life Below Water
Life On Land