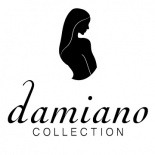 Damiano Collection
Artisan made clothing and self-care accessories inspired by Mediterranean Living.

Add Review
Damiano Collection
Damiano Collection® is an Artisan made loungewear and natural beauty accessories brand that promotes authentic living, comfort, and wellbeing within the lives of modern women.

The collection was founded in 2015 by Designer and Lead Artisan, Alexandra Damiano. She is constantly inspired by her Mediterranean roots, traveling often to visit family in Greece and reconnect with the values of Mediterranean living.

All items in our shop are handmade in small batches or made-to-order.  We believe in the concept of slow living and taking time to create exceptional items that align with natural living and quality over quantity.  We hope you find a few items that fit your lifestyle!

Find us on Instagram @Damiano_Collection

Visit our main website at DamianoCollection.com for more!
OUR VALUES