Katia, soap frog - The Bulgarian rose doctor frog who came to America
Katia, soap frog - The Bulgarian rose doctor frog who came to America
This frog is named 'Katia' because she is our beautiful Bulgarian rose blend and a lovely pink swirl in our Rose Peeper frog soap bar. Perfect for kids to encourage their bath time. Fun for adults who want a bit of whimsy in the bathroom. Always charming as a gift, too. Every purchase comes in a sturdy cargo box with air holes to breathe and plenty of fresh cut paper grass to keep your frog happy. Plus, one free sample from our Studio. Our frogs are a hoppy family. Collect all six. DIRECTIONS: Use while bathing, washing in bath, shower or hand washing, keep soap dry when not in use. We suggest to cut your soap into two pieces to enjoy longer, or use in two rooms. INGREDIENTS: Saponified olive oil, organic coconut oil, organic sustainable palm oil, cocoa butter, organic shea butter, fuscha color, proprietary blend rose fragrance oils, Bulgarian rose absolute essential oil, Dead Sea salt, stearic acid. Additional ingredients: a plethora of love, 1 hefty scoop of pure Bulgarian sunshine Keep out of eyes. Do not ingest. Waterfall Glen Soap Company, llc. is not responsible for any individual reaction to any particular ingredient. People with sensitivities to any listed ingredient should not use. In case you are in doubt or have sensitive skin, try on a small area. If at any time irritation occurs discontinue use.
Shipping Policy:  We try to ship same or next day via USPS mail and Priority Mail.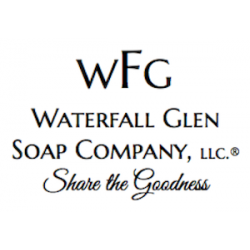 We began making soap in our kitchen for family and friends in the early summer of 2013.  Later that year, we created the foundation of Waterfall Glen Soap Company (named after the forest preserve in our backyard).   We recently moved to Belle...