Frog shaped soap bars with character back stories: Timothy, frog soap is sandalwood ad cedarwood.
Frog shaped soap bars with character back stories: Timothy, frog soap is sandalwood ad cedarwood.
Timothy, the frog is cedar wood and sandalwood with random multi-colored spots from other soap pieces. Timothy is the Dad to Morgan and Nathan. His color comes from zinc oxide which is marvelous for your skin. Each Frog-in-a-box soaps are a wonderful way to bring springtime smiles to anyone - anytime of the year. Perfect for kids to encourage their bath time. Fun for adults who want a bit of whimsy in the bathroom. Always charming as a gift, too. Every purchase comes in a sturdy cargo box with plenty of fresh cut paper grass. From our family to yours, everything we manufacture at Waterfall Glen Soap Company is pure, simple and natural. DIRECTIONS: Use while bathing, washing in bath, shower or hand washing, keep soap dry when not in use. We suggest to cut your soap into two pieces to enjoy longer, or use in two rooms. INGREDIENTS: Saponified organic coconut oil, olive oil, organic RSPO palm oil, organic cocoa butter butter, organic shea butter, activated charcoal, sandalwood, cedar wood fragrance / essential oil blend, zinc oxide, Dead Sea salt Keep out of eyes. Do not ingest. Waterfall Glen Soap Company, llc. is not responsible for any individual reaction to any particular ingredient. People with sensitivities to any listed ingredient should not use. In case you are in doubt or have sensitive skin, try on a small area. If at any time irritation occurs discontinue use. REVIEWS: ***** AMAZING! I love this product I actually bought 4 or 5 for my mom as a gift she loves frogs and anything that is good smelling and organic and she loved them so much she could barely use them she didnt want to ruin them which is why I got her a few I will definitely buy these again. And the little stories are so cute they really are a thoughtful creation. Wesley. 1/2020 ***** SUPER CUTE! LOVE IT! GREAT PRICE. I love it so much ! I will definitely be buying more in the future . It smells so freaking good! Madison. 5/2019 *****. MY TEENAGE SON THOUGHT IT WAS GREAT. I think this is a very cute idea and my teenage son thought it was pretty funny. Amazon customer. 1/2020 **** FROG SOAP. Not a fan if the scent but it was for a frog lover do the shape was perfect. Gloria. 1/2020 ***** IT SMELLS GREAT. This product was a perfect gag gift for my brother! Claudia. 12/2019 ***** GREAT SCENT. Love the scent. D. Wenzen 12/2019
Shipping Policy:  We try to ship same or next day via USPS mail and Priority Mail.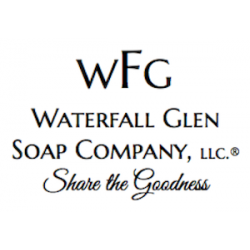 We began making soap in our kitchen for family and friends in the early summer of 2013.  Later that year, we created the foundation of Waterfall Glen Soap Company (named after the forest preserve in our backyard).   We recently moved to Belle...