Sampler box of one ounce cuts - Soap sampler box
Sampler box of one ounce cuts - Soap sampler box
Single packed 1 ounce+ cuts of every soap in an attractive box. How much soap is a 1oz. cut? Well, quite a lot actually. It's more than enough for several uses and long enough to know if you'll enjoy a full bar. Each single pack comes with a full description of the aroma and ingredients. These are perfect travel size soaps, or Christmas stocking stuffers. Awesome for college dorm rooms, the office powder room or simple gifts for bridal showers. The perfect item for someone who wants to try every bar we make but can't make up their mind. We get it! Waterfall Glen Soap Company is an aromatherapy journey, so we made this easier for your indecisive soul. Order your sampler box today and you can have it all. As with all our soaps - keep them dry when you're done using it. That means, don't leave it in the shower. Place it on the bathroom counter near the sink. DIRECTIONS: Use while bathing, washing in bath, shower or hand washing, keep soap dry when not in use. We suggest to cut your soap into two pieces to enjoy longer, or use in two rooms. INGREDIENTS: saponified olive oil, organic coconut oil, organic rspo palm oil, organic cocoa butter, organic shea butter, essential /fragrance oil blend, botanicals, charcoal, Dead Sea salt, stearic acid Keep out of eyes. Do not ingest. Waterfall Glen Soap Company, llc. is not responsible for any individual reaction to any particular ingredient. People with sensitivities to any listed ingredient should not use. In case you are in doubt or have sensitive skin, try on a small area. If at any time irritation occurs discontinue use.
Shipping Policy:  We try to ship same or next day via USPS mail and Priority Mail.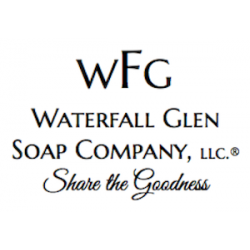 We began making soap in our kitchen for family and friends in the early summer of 2013.  Later that year, we created the foundation of Waterfall Glen Soap Company (named after the forest preserve in our backyard).   We recently moved to Belle...