Enjoy the Journey Wrap Bracelet
Enjoy the Journey Wrap Bracelet
This product is aligned with 7 values
Being happy is for most of us one of the key aims in life. But where we often go wrong is in figuring out which path to take to achieve that happiness. My own path has been a somewhat unconventional one. In my last year at college, most of my peers were busy applying for full-time jobs with large companies, but I knew that wasn't what I wanted to do. I wanted to see the world, which was met with disapproval and scepticism by many. But excited, and somewhat scared, I set off alone on my travels. I have been traveling and making a living of my passions ever since. "The beads look like globes. The rose gold looks so nice with the color variations in the beads. The compass with all those little earth globes is fantastic. A reminder that any direction you chose will take you somewhere amazing! The world is only as big as you let it be and the direction of our journey in this world, while shaped by many forces, is ultimately our choice. There are no wrong directions, just different paths," said our brand ambassador Dawn Rubick about this piece. Be present wherever you are in your life and in the world. Enjoy every moment of your journey! Turquoise is perhaps the oldest stone in man's history, the talisman of kings, shamans, and warriors. It is a stone of protection, strong and opaque, yet soothing to the touch, healing to the eye, as if carved from an azure heaven and slipped to earth. Turquoise has been recognized as possessing the power to protect the wearer from harm. As a crystal for travel, Turquoise protects you and your possessions against theft, loss or attack, helps prevent accidents, especially falls, and even guards your pet. As jewelry it is worn by men and women alike, and considered a promise of fidelity and protectiveness to a lover or partner. It is used in sacred prayer beads, adorns musical instruments, prayer wheels and bells, and a Turquoise rosary is said to relate prayer to whatever deity is being invoked. Turquoise is traditionally received as a gift to pass on its natural fortune-bringing powers, so if you buy your own, make it a gift to yourself. 27 inch long. Wear it as a layered bracelet or as a stylish, chick, long necklace - It is up to how do you feel the morning you wake up. Sterling Silver Clasp.
Here we gathered the most Frequently Asked Questions. Should we did not answer yours, please email us at Szilvia@GoghJewelryDesign.com


Q: Can I get my order gift wrapped?
A: Yes. Upon request we can gift wrap items in your order for an $5.00
You will be able to select Gift Wrap at Checkout.


Q: Can I order an item in a different size than it is listed (shorter/ longer)?
A: Yes, just please send us an email with your request and we will be happy to accommodate!


Q: Do you ship internationally?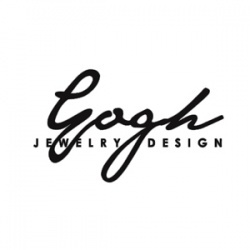 I started my jewelry design business 20 years ago because I love beautiful things, but as an active woman, I couldn't find any silver jewelry that was both meaningful and functional - so I started creating jewelry myself. I wanted to wear jewelry...