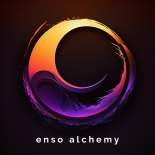 Enso Alchemy
Unique one-of-a-kind energetic portraits.

Add Review
Enso Alchemy
Jim is a visionary artist and a past student of legendary Japanese calligrapher, Zen teacher & author Kazuaki Tanahashi. He has a unique and innovative approach to art. With nearly two decades of experience in energy healing and a deep understanding of the principles of quantum mechanics and hitsuzendo, Jim blends ancient wisdom and the timeless enso symbol to create one-of-a-kind, energetic portraits for his clients.



Jim's enso portraits are a reflection of the subject's innermost being, capturing the essence of their soul and the love that radiates from within. By incorporating principles of quantum mechanics, Jim's portraits are a true expression of the interconnectedness of all things, with each one stroke piece capturing the energy and higher self of his subject.



The circular shape of the enso symbolizes enlightenment, one's true nature, non-duality, perfection. By gazing at their energetic enso portrait, the subject can align with their higher self, or the best version of themselves, leading to a deeper connection with their inner being and a heightened sense of well-being.



Jim's paintings are not just highly unique works of art, but also a tool for personal growth and transformation. His portraits are not only a beautiful addition to any home or office but also a powerful and meaningful gift for oneself or a loved one.

What an uncommon and fascinating conversation starter they possess!
OUR VALUES