Fingerless Mittens hand knit in a variety of colors
Fingerless Mittens hand knit in a variety of colors
This product is aligned with 10 values
70% Baby Alpaca, 30% Merino Wool Unisex Size laying flat: 3" (7cm) at wrist and 7" (18cm) bottom of cuff to top cuff. Will fit up to an 8" (21cm) wrist circumference Wear these delicious mitts, inside during those below freezing cold winter days, outside to keep away a fall chill, or even under a mitten shell to add a little extra warmth. Designed by Knit Witts. Hand Knit by KOCO Global
Shipping Policy
In-Stock Items:  Will be shipped in 1-3 business days.
Made-to-Order Items:  Will be shipped in 3-7 business days.

Shipping Options
USPS, UPS and FedEx are available

Returns & Exchanges
At Knit Witts Global we believe that purchase should be well thought.  The idea is "if you like what you buy, you won't throw it away"; save waste.  But, if upon receiving your order from us, you are not happy, please contact us with 5 days at customerservice@knitwittsglobal.com. and we can arrange a return or exchange.

Cancellation
Within 24 hours of purchase.

Privacy Policy
We will not share your information.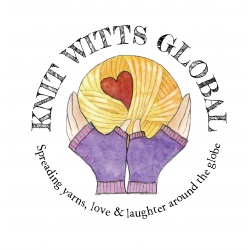 AboutPaulette fell in love with yarn and knitting in 2013 and delightfully this love has taken her on a journey of self discovery, as well as, the connection of handmade around the globe.  Hand made traditions tell the story of culture.  In most c...