Frazzle Close Up Handmade Earrings Hypoallergenic Niobium Ear Wires, Gift For Her
Our hand painted earrings have been created to "Get YOU Compliments." The Hypoallergenic 100% Niobium Ear Wires are guaranteed to be comfortable or your money back! Our goal at Robert Cerins Designs is to get you noticed. Robert lives to create and paint!
Shipping Policy

Shipping inside Canada is free we use only Canada post to ship our packages. To ship everywhere else we still use Canada post but we charge international customers $5.00 to help cover the shipping costs. It costs about $10.00 to ship outside the country.


Shipping Options
We only use Canada post for shipping. If you need us to ship your package a different we can discuss other shipping options.


Returns
If you dislike the earrings we ask that you pay the shipping fees to send your earrings back and we will send you back your money when we get our product back from you.
Money Back Guarantee
If our ear wires give you the itchy ear, hurt your ears or you have any problem we will give you your money back. We just ask that you ship the earrings back to us at your cost.
Blessings,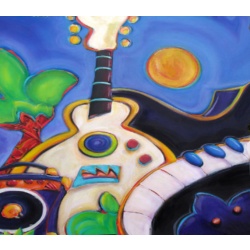 About Robert needs to create the same way he needs to breathe. He has been creating one of a kind art since 1984. His first successful foray into the business of art was also called "Original Art To Wear." Porcelain clay was his med...