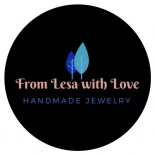 From Lesa with Love
Bringing Nature to you through Handmade Jewelry

Add Review
From Lesa with Love
Unique Handmade Jewelry
OUR VALUES
Empowers Women
Organizations, companies, and spaces which support gender equality and women's rights.
Made by Hand
Products/goods which are made uniquely by an individual as opposed to mass produced.
Made with Love
Products/goods that are produced with special attention and care, as if made for a loved one.
Made in the USA
Products/goods produced in the United States as opposed to a foreign country.
Woman Owned Business
Businesses which are owned and operated by solely women.
Recycled Glass
A solid substance created through the heating of liquid sand.
GLOBAL GOOD
We actively work to meet the following UN Sustainable Development Goals:
Good Health
Gender Equality