Blue Lavender Tranquility Mist
Blue Lavender Tranquility Mist
A tranquil hydrating mist formulated with anti-inflammatory, anti-bacterial and vitamin rich botanicals to hydrate, calm and soothe the skin. Blue Tansy, Lavender, Chamomile and Prickly Pear work synergistically to support skin's retention of moisture and create a smooth, supple and clear complexion. Blue Lavender Hydration Mist is just as soothing for the senses as it is for the skin! Use throughout the day to instantly feel calm, hydrated and refreshed. BEST FOR: All skin types, especially sensitive, irritated and inflamed skin. HOW TO USE: Gently shake bottle before using. Lightly mist over face after cleansing and before applying moisturizer to seal in hydration and enhance nutrient absorption. May be stored in fridge for a cooling burst of moisture. INGREDIENTS: *Blue Tansy Distillate, *Lavender Distillate, *Witch Hazel Distillate, **Silver Distillate, **Vegetable Glycerin, **Chamomile Extract, **Prickly Pear Extract, **Radish Root Ferment, **Butterfly Pea Flower. *Organic ingredient/**Non-GMO - Wildcrafted KEY INGREDIENTS: ♦ Blue Tansy Hydrosol: with a sweet, floral, herbaceous, slightly camphor-like aroma, blue tansy hydrosol is considered to be a truly incredible, comprehensive skin healing hydrosol. It's perfect for sensitive skin, healing damaged skin, and preventing breakouts. Incredibly soothing, it helps to minimize inflammation, tame redness, soothe sensitive skin and regenerate skin at a cellular level. ♦ Lavender Hydrosol: versatile in nature, lavender's powerful anti-inflammatory, antioxidant, antimicrobial and calming properties help to soothe irritated or inflamed skin. It's also a moisturizer and improves circulation by adding oxygen to the skin cells. Beneficial for all skin types, lavender is useful in the treatment of acne and can balance oily or dry skin. ♦ Chamomile Extract: used throughout history as an herbal treatment for various skin conditions, it functions as an antimicrobial, antiallergic, anti-inflammatory, antioxidant, and analgesic. These properties help to decongest clogged pores and soothe and calm irritated or inflamed skin. It also includes the flavonoids apigenin, luteolin, and quercetin, as well as alpha-bisabolol and matricin oils, making it effective in protecting the skin against free radicals that cause aging. ♦ Prickly Pear Extract: exceptionally high in vitamins A & K and essential fatty acids, prickly pear helps to smooth and refine the skin's texture, retain moisture, restore elasticity and brighten hyper-pigmentation. It's also high in phytosterols, especially beta-sitosterol, which provides antioxidants, antibacterial and anti-inflammatory properties. The combination of phytosterols and natural essential fatty acids works well for anti-aging concerns and encourages new collagen production. ♦ Silver Hydrosol: has been used as a healing and anti-bacterial agent for thousands of years by civilizations throughout the world. Its medicinal, preservative and restorative powers can be traced back to the Ancient Greek and Roman empires. In topical skin applications, silver stimulates healing of soft tissue and is beneficial for many skin issues such as scrapes, burns eczema, psoriasis and dermatitis. We use plants to color our products and the natural variations in plant color can make our products change color slightly from one batch to the next. Colors may also change over time. This does in no way affect the efficacy of the product. Enjoy your 100% natural plant-based mist!
Order Info: 

Orders will usually ship within 3-5 business days (Monday-Friday & does not include weekends or holidays). We handcraft each product we ship. This includes making, bottling, labeling, and shipping, all by hand. Once your order has shipped, you will receive a confirmation email with a USPS tracking number. Some items may ship in separate boxes, but will not require additional shipping charges. 
Every product is created, bottled, and labeled in house and handled with intention and care. If you need your item sooner, please email us at hello@bluehavenholistics.net and we will do our best to accommodate you. 
We at Blue Haven work hard to help you get your orders as quickly as possible. So as soon as the payment is accepted and the order is confirmed, it is immediately in the process of being made. This, unfortunately, means NO changes can be made to your order once it is placed. 
Please keep in mind that the products you are buying are handmade and 100% natural so some variation from batch to batch is normal (slight changes in color for example). This does not have an effect on the product's efficacy and is safe to use for the duration of their stated shelf-life.
Shipping: 

Shipping within the US is a flat rate of $7.95 for all orders. We dislike charging shipping just as much as you dislike paying them, but due to the nature of our products, keeping shipping costs separate helps keep our prices friendly. All orders are shipped via the United States Postal service. For orders shipping within the US, packages can be delivered 2-3 days after you receive your shipment confirmation. 
Returns & Exchanges:

Due to the handcrafted nature of our products, we do not accept returns or offer refunds. If you are not satisfied with your order, please send us an email at hello@bluehavenholistics.net to discuss options to meet your satisfaction. Your well-being and happiness is our priority and we intend to make you a client for life!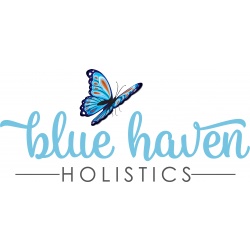 Our brand storyBlue Haven Holistics is about being in harmony with nature. Our inspiration in creating natural, pure and organic skin and body care products comes from our love of Mother Nature and its powerful ability to nourish, nurture and renew m...