A nourishing, antioxidant rich, refreshing serum-like mist delivers an instant surge of hydration and radiant glow to dull and thirsty skin. Rose distillate, aloe vera, coconut water and hyaluronic acid calms, soothes and locks in moisture to reduce the appearance of aging associated with dry skin and harsh climates. Sea kelp bioferment, white tea extract and marine phytoplankton provide minerals, vitamins, amino acids, and essential fatty acids to soften and tone complexion. BEST FOR: All skin types in need of hydration. HOW TO USE: Gently shake bottle before using. Lightly mist over face after cleansing and before applying moisturizer to seal in hydration and enhance nutrient absorption. May be stored in fridge for a cooling burst of moisture. INGREDIENTS: *Rose Distillate, *Coconut Water, *Aloe Vera Juice, **Botanical Hyaluronic Acid, **Glycerin, **Sea Kelp Bioferment, **White Tea Extract, **Chamomile Extract, **Marine Phytoplankton, **Radish Root Ferment, *Hibiscus Flower Extract. *Organic ingredient/**Non-GMO - Wildcrafted KEY INGREDIENTS: ♦ Rose Hydrosol: A true botanical beauty known for its impressive skin benefits. Abundant in antioxidants, aromatic rose water rejuvenates, hydrates, softens, and calms redness and irritation. It's also ph balancing and has antimicrobial properties which comes in handy for those that are break out prone. Cooling and refreshing, rose water can be used as a toner, facial mist or throughout the day to freshen. ♦ Botanical Hyaluronic Acid: Our botanical form of hyaluronic acid is derived from a plant called Indian Senna Seed. A powerful humectant known for its unique ability to hold more than 1000 times its weight in water and drawing moisture out of the environment and onto the surface of your skin. Hyaluronic acid is vital to maintaining the skin's healthy structure. It helps to improve skin circulation and repair, increases hydration and helps moisture bind to skin cells to keep the skin plump, firm and dewy. ♦ Sea Kelp Bioferment: Exceptionally high in vitamins and minerals and long prized for its anti-inflammatory and healing benefits, sea kelp offers potent hydration benefits to help replenish the skins barrier and restore radiance. Harvested from the North Atlantic waters, this sea kelp bioferment is derived by fermentation of sea kelp, which breaks down the cellular tissue of the kelp leaf, thereby increasing the bioavailability of the naturally occurring chemical compounds abundant in kelp. ♦ White Tea Extract: A true tea and less processed than its counterpart, green and black tea. This delicate tea packs a punch when it comes to antioxidants which are essential for healthy glowing skin. This powerful extract helps to reduce oxidative stress to the skin as well as remove toxins and prevent the breakdown of elastin and collagen which leads to wrinkles that accompany aging. ♦ Marine Phytoplankton: A highly nutritious ingredient abundant in antioxidants, vitamins, amino acids, micronutrients, and essential fatty acids. Plankton provides deep moisture to dry and dehydrated skin, conditions and soothes sensitive skin and helps to improve radiance and tone. We use plants to color our products and the natural variations in plant color can make our products change color slightly from one batch to the next. Colors may also change over time. This does in no way affect the efficacy of the product. Enjoy your 100% natural plant-based mist!
Order Info: 

Orders will usually ship within 3-5 business days (Monday-Friday & does not include weekends or holidays). We handcraft each product we ship. This includes making, bottling, labeling, and shipping, all by hand. Once your order has shipped, you will receive a confirmation email with a USPS tracking number. Some items may ship in separate boxes, but will not require additional shipping charges. 
Every product is created, bottled, and labeled in house and handled with intention and care. If you need your item sooner, please email us at hello@bluehavenholistics.net and we will do our best to accommodate you. 
We at Blue Haven work hard to help you get your orders as quickly as possible. So as soon as the payment is accepted and the order is confirmed, it is immediately in the process of being made. This, unfortunately, means NO changes can be made to your order once it is placed. 
Please keep in mind that the products you are buying are handmade and 100% natural so some variation from batch to batch is normal (slight changes in color for example). This does not have an effect on the product's efficacy and is safe to use for the duration of their stated shelf-life.
Shipping: 

Shipping within the US is a flat rate of $7.95 for all orders. We dislike charging shipping just as much as you dislike paying them, but due to the nature of our products, keeping shipping costs separate helps keep our prices friendly. All orders are shipped via the United States Postal service. For orders shipping within the US, packages can be delivered 2-3 days after you receive your shipment confirmation. 
Returns & Exchanges:

Due to the handcrafted nature of our products, we do not accept returns or offer refunds. If you are not satisfied with your order, please send us an email at hello@bluehavenholistics.net to discuss options to meet your satisfaction. Your well-being and happiness is our priority and we intend to make you a client for life!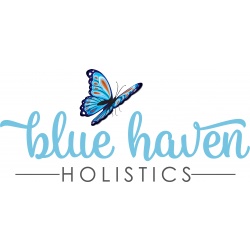 Our brand storyBlue Haven Holistics is about being in harmony with nature. Our inspiration in creating natural, pure and organic skin and body care products comes from our love of Mother Nature and its powerful ability to nourish, nurture and renew m...