An ultra-light, superfood-feast blend of exotic super fruits enriched with antioxidants, essential fatty acids and vitamins to deliver instant hydration and lock in moisture leaving skin perfectly glowing and moisturized. Kakadu Plum, the worlds richest source of vitamin C, combined with guava, mangosteen berry, goji berry and the exotic plumeria flower, create a potent antioxidant elixir. Prickly pear, squalane and kalahari melon seed oil provide instant moisture. Suitable for all skin types in moisturization and a boost of antioxidants. TO USE: Apply 3-10 drops to cleansed and toned skin. Massage in and allow to absorb before applying makeup. Store in a cool dry place and out of direct sunlight. This face oil can be layered with other moisturizers to address your anti-aging and hydration needs. INGREDIENTS: *Squalane Oil (Olive Oil derived), *Kalahari Melon Seed Oil, **Guava Seed Oil, **Goji Berry Oil, **Kakadu Plum Extract, **Mangosteen Oil, **Prickly Pear Extract, *Red Raspberry Seed Oil, **Plumeria Absolute, **Sweet Orange Peel Oil, **Vitamin E. *Organic ingredient/**Wildcrafted KEY INGREDIENTS: ♦ Mangosteen Oil - dubbed "the queen of fruits" due to its impressive skin benefits. Mangosteen is exceptionally high in antioxidants, including xanthones which protect the skin in multiple ways with antioxidant and anti-inflammatory benefits. Besides using xanthones to defend the skin, the fruit also promotes microcirculation which improves the appearance of skin vitality and radiance. ♦ Guava Oil: Abundant in lycopene, a powerful antioxidant known for its protective effect against free radicals. Guava is also rich in minerals and vitamins A, B, C, E and K, to help improve blood circulation and skin discoloration such as dark circles, acne irritation and broken capillaries. The astringent properties of guava help to improve skin texture and elasticity. ♦ Kakadu Plum Extract: With one of the highest recorded levels of vitamin C of any plant in the world, kakadu plums contain over 3000mg of Vitamin C per 100g of fruit. This supercharged anti-oxidant ingredient works to stimulate collagen to help reduce fine lines and wrinkles. Containing the phytochemicals gallic and ellagic acids, kakadu plums have long been sought after for their anti-fungal and antibacterial properties. While gallic acid works as an antioxidant to protect skin cells from free radicals and to restore the natural skin barrier, ellagic acid encourages skin elasticity and suppleness. ♦ Plumeria Flower: While you may not be familiar with the name, if you've ever had the chance to wear a lei, you've met one of Hawaii's prized possessions! Commonly known as frangipani, this alluring and fragrant flower has a plethora of skin benefits. Abundant in antioxidant, antibacterial and anti-inflammatory properties, this oil helps to protect the skin from oxidation, skin irritations and soothes dry skin conditions. It's also a potent moisturizer, preventing moisture loss from the skin. ♦ Goji Berries - a total antioxidant powerhouse and a major source vitamins, minerals, phytochemicals and micronutrients. These potent nutrients do everything from support collagen production, improve skin hydration, protect skin's elasticity and help firm, tighten and plump the appearance of skin for a more youthful look. ♦ Prickly Pear Extract: Exceptionally high in vitamins A & K and essential fatty acids, prickly pear helps to smooth and refine the skin's texture, retain moisture, restore elasticity and brighten hyper-pigmentation. It's also high in phytosterols, especially beta-sitosterol, which provides antioxidants, antibacterial and anti-inflammatory properties. The combination of phytosterols and natural essential fatty acids works well for anti-aging concerns and encourages new collagen production. Formula Update: Formerly named Super Berry Oil, this super hydrating antioxidant oil is now named Ambrosia Antioxidant Oil. We felt that the amalgam of tropical fruits, kakadu plum, guava, mangosteen, goji berry and the exotic plumeria (frangipani) flower were more accurately described as Ambrosia. Ambrosia simply means, "something very pleasing to taste or smell." It's also used to describe a tropical fruit salad. While we don't recommend that you taste this oil, you will absolutely love how effortlessly this oil absorbs into your skin while the light exotic scent of tropical plumeria and sweet orange peel round off this super hydrating face oil. We use plants to color our products and the natural variations in plant color can make our products change color slightly from one batch to the next. Colors may also change over time. This does in no way affect the efficacy of the product. Enjoy your 100% natural plant-based antioxidant face oil!
Order Info: 

Orders will usually ship within 3-5 business days (Monday-Friday & does not include weekends or holidays). We handcraft each product we ship. This includes making, bottling, labeling, and shipping, all by hand. Once your order has shipped, you will receive a confirmation email with a USPS tracking number. Some items may ship in separate boxes, but will not require additional shipping charges. 
Every product is created, bottled, and labeled in house and handled with intention and care. If you need your item sooner, please email us at hello@bluehavenholistics.net and we will do our best to accommodate you. 
We at Blue Haven work hard to help you get your orders as quickly as possible. So as soon as the payment is accepted and the order is confirmed, it is immediately in the process of being made. This, unfortunately, means NO changes can be made to your order once it is placed. 
Please keep in mind that the products you are buying are handmade and 100% natural so some variation from batch to batch is normal (slight changes in color for example). This does not have an effect on the product's efficacy and is safe to use for the duration of their stated shelf-life.
Shipping: 

Shipping within the US is a flat rate of $7.95 for all orders. We dislike charging shipping just as much as you dislike paying them, but due to the nature of our products, keeping shipping costs separate helps keep our prices friendly. All orders are shipped via the United States Postal service. For orders shipping within the US, packages can be delivered 2-3 days after you receive your shipment confirmation. 
Returns & Exchanges:

Due to the handcrafted nature of our products, we do not accept returns or offer refunds. If you are not satisfied with your order, please send us an email at hello@bluehavenholistics.net to discuss options to meet your satisfaction. Your well-being and happiness is our priority and we intend to make you a client for life!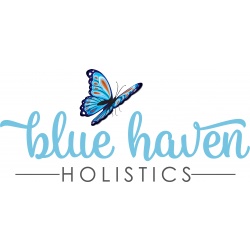 Our brand storyBlue Haven Holistics is about being in harmony with nature. Our inspiration in creating natural, pure and organic skin and body care products comes from our love of Mother Nature and its powerful ability to nourish, nurture and renew m...