Get Shit Done Roll-on, 10ml
Get Shit Done Roll-on, 10ml
Inspiration: Use this blend when clarity, focus and energy are needed. Apply to palms of hands, back of neck and chest. Gently massage into the area and take 3 deep breaths with your hands or the rollerball at your nose. Next roll your shoulders, pull up your sleeves and get pumped! You can do it! Focus and Energy Jojoba oil, essential oils of rosemary, bergamot, lavender, peppermint. 100% organic ingredients. Get hydrated and move your body a little after applying this blend. Moving the blood and tending to our basic needs is the best way to staying on top of our game! Spot test for skin sensitivities. External use only. Keep out of reach of children. If you are pregnant, or nursing, or under a doctor's care, consult your physician. Avoid UV rays for up to 12 hours after applying the product. These statements have not been evaluated by the FDA. These products are not intended to diagnose, treat, cure or prevent any disease.
Seller Questions/Answers
sacn,..csxm..?
- Chandresh Thakor
Hello, Did you have a question about this product?
what ajsnj...?
- Chandresh Thakor
Hello, Did you have a question about this product?
Shipping Policy
We ship out via USPS, within 3 days of order. 
Shipping Options
USPS, standard delivery
Returns & Exchanges
My order was damaged upon receipt:
Please report damages within 24 hours of delivery receipt by sending an email, including clear photo images of the damaged product, to i
[email protected]
so that we can issue an order replacement.
I do not love the product I received:
Herbin Alchemy is dedicated to your product satisfaction and understands that everyone may not resonate with every single product we create. So, if you aren't totally in love with your item we are happy to issue a printable return slip and a store credit upon our receipt of the returned product. 
The store credit applied to your account will be less the return shipping fee. Store credit requests must be submitted within 2 weeks of the date of purchase. Returns must be made within 3 days of receipt of return slip for a credit to be issued. 
Thank you for working with us, and feel free to reach out with any questions! 
Cancellation
If your order is cancelled via email
[email protected]
before it ships out than you will be refunded in the full amount. 
Privacy Policy
- PRIVACY POLICY -
Herbin Alchemy takes your privacy seriously! Please read below to understand how we use any information you provide to us:
 PRIVACY STATEMENT
SECTION 1 - WHAT DO WE DO WITH YOUR INFORMATION?
When you purchase something from our store, as part of the buying and selling process, we collect the personal information you give us such as your name, address and email address.
Email marketing: By providing your email address you are granting us permission to send you emails about our store, new products and other updates such as blogs and vitality center news. We are very mindful of how often we send content, and only send the good stuff!
 SECTION 2 - CONSENT
How do you get my consent?
When you provide us with personal information to complete a transaction, verify your credit card, place an order, arrange for a delivery or return a purchase, we imply that you consent to our collecting it and using it for that specific reason only.
If we ask for your personal information for a secondary reason, like marketing, we will either ask you directly for your expressed consent, or provide you with an opportunity to say no.
How do I withdraw my consent?
If you decide you no longer want to receive our correspondence you always have the choice to unsubscribe! Either unsubscribe via the link on one of our emails or send an email to
[email protected]
with your full name and email address so that we can unsubscribe you. No problem!
SECTION 3 - DISCLOSURE

We may disclose your personal information if we are required by law to do so or if you violate our Terms of Service.
SECTION 4 - WIX
Our store is hosted on WIX. They provide us with the online e-commerce platform that allows us to sell our products and services to you.
Your data is stored in WIX data storage, databases, and the general WIX application. They store your data on a secure server behind a firewall.
Payment:
If you choose a direct payment gateway to complete your purchase, then WIX stores your credit card data. It is encrypted through the Payment Card Industry Data Security Standard (PCI-DSS). Your purchase transaction data is stored only as long as is necessary to complete your purchase transaction. After that is complete, your purchase transaction information is deleted.
All direct payment gateways adhere to the standards set by PCI-DSS as managed by the PCI Security Standards Council, which is a joint effort of brands like Visa, MasterCard, American Express and Discover.
PCI-DSS requirements help ensure the secure handling of credit card information by our store and its service providers.
SECTION 5 - THIRD-PARTY SERVICES

In general, the third-party providers used by us will only collect, use and disclose your information to the extent necessary to allow them to perform the services they provide to us.
However, certain third-party service providers, such as payment gateways and other payment transaction processors, have their own privacy policies in respect to the information we are required to provide to them for your purchase-related transactions.
For these providers, we recommend that you read their privacy policies so you can understand the manner in which your personal information will be handled by these providers.
Once you leave our store's website or are redirected to a third-party website or application, you are no longer governed by this Privacy Policy.
Links:

When you click on links on our store, they may direct you away from our site. We are not responsible for the privacy practices of other sites and encourage you to read their privacy statements.
SECTION 6 - SECURITY
To protect your personal information, we take reasonable precautions and follow industry best practices to make sure it is not inappropriately lost, misused, accessed, disclosed, altered or destroyed.
If you provide us with your credit card information, the information is encrypted using secure socket layer technology (SSL) and stored with a AES-256 encryption. Although no method of transmission over the Internet or electronic storage is 100% secure, we follow all PCI-DSS requirements and implement additional generally accepted industry standards.
SECTION 7 - AGE OF CONSENT

By using this site, you represent that you are at least the age of majority in your state or province of residence, or that you are the age of majority in your state or province of residence and you have given us your consent to allow any of your minor dependents to use this site.
SECTION 8 - CHANGES TO THIS PRIVACY POLICY
We reserve the right to modify this privacy policy at any time, so please review it frequently. Changes and clarifications will take effect immediately upon their posting on the website. If we make material changes to this policy, we will notify you here that it has been updated, so that you are aware of what information we collect, how we use it, and under what circumstances, if any, we use and/or disclose it.
QUESTIONS AND CONTACT INFORMATION
If you would like to: access, correct, amend or delete any personal information we have about you please don't hesitate to contact us at
[email protected]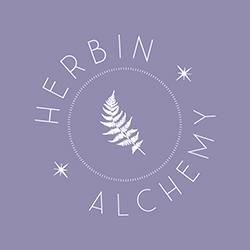 AboutHerbin Alchemy is comprised of a sweet little vitality center in Denver, Colorado and also provides gorgeous aromatherapy blends for health and wellness. Our products are organic with a couple of the essential oils being wild crafted. I also lov...