Home Decor and Essentials, Gia Roma Coffee Mugs and Home Decor | Seasonal Gifts Available too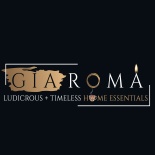 Gia Roma
One stop shop for gifts & home essentials. From drinkware, to candles & wax melts, to towels, seasonal decor, funny signs and so much more. We have something for everyone. Especially for those who love to laugh and love neutral home decorative pieces :)

Add Review
Gia Roma
We wholeheartedly embrace the "hot mess express" lifestyle, navigating it with an ample supply of coffee, a generous sprinkling of sarcasm, and, of course, a little more coffee. Can you relate? If so, you'll find a kindred spirit in us!




Our mission is all about helping people adopt a more lighthearted approach to life, emphasizing the beauty of imperfections over the pursuit of picture-perfect images for social media. Alongside this, we're committed to assisting others in discovering enduring pieces for their homes, with a strong focus on eco-friendly and American-made products. We believe in supporting local businesses, minimizing imports, and doing our part to protect the environment.




In addition to our dedication to sustainability and community, we make it a point to give back. A portion of every order goes to a local Domestic Abuse Shelter for Women and Children, ensuring that we contribute to the well-being of those in need.




We cater to individuals with various budgets, offering a range of products, from high-end luxury items to fantastic deals. Most of our merchandise is proudly made in the USA, adding to its intrinsic value.




One of the cornerstones of our business is our exceptional customer service and quick turnaround times. We are unwavering in our commitment to providing not only top-notch products but also outstanding service to our valued customers.




Gia Roma takes its name from our owner, Angela's second child and first daughter, Gia. The name "Roma" is derived from the word "Aroma," cleverly combining the ending of "Gia" with the beginning of "aroma." For us, aroma isn't just about scent; it represents an essence and atmosphere that transcends the senses. We're dedicated to crafting styles that evoke an aroma for the eyes, mind, body, and soul, creating lasting memories—an aroma of life.




If we had to sum up Gia Roma in a few words, it would be: Luxury, Comfort, Adulting, Fun, Coffee, Mom/Dad Life, Sarcasm, Timeless, Versatile, and, of course, More Coffee. Our home base is in Upstate New York, and we're proud to be part of this vibrant community.
OUR VALUES
BPA Free
BPA Free
Products that are made without bisphenol A, a chemical found in some plastics which has been reported to cause negative health effects on the brain and prostate gland.
GMO Free
Products made without the presence of organisms that have been either created or altered in a laboratory.
Non-Toxic
Products designated to be edible or non-poisonous to consume.
Paraben Free
Products free of parabens, or cosmetic/pharmaceutical preservatives, which have been reported to cause breast cancer, among other issues.
Pesticide Free
A method of food preparation or farming which does not include artificial pesticides .
Phthalate Free
Products free from phthalates, a huge class of harmful chemicals, posing a wide range of negative health impacts, that can be found in everything from household cleaners to food packaging to fragrance, cosmetics, and personal-care products.
Cruelty Free
Manufactured or developed by methods that do not involve experimentation on animals.
Empowers Women
Organizations, companies, and spaces which support gender equality and women's rights.
Ethically Sourced
Products which are produced without compromising the people who execute the production.
GLOBAL GOOD
We actively work to meet the following UN Sustainable Development Goals:
Gender Equality
Affordable And Clean Energy
Sustainable Cities And Communities