Hemp Or Nothing Fan Girl T shirt L Hemp organic cotton
Hermans Hemp L t shirt NWT 55% Hemp 45% Organic Cotton Fan Girl wear hemp or nothing . Soy based silk screen in the USA made in China. Tan . From shoulder to shoulder is 21" from pit to pit is 24" , down the back from the top to the bottom is 27" waist is 45" we ship fast, free and plastic free.
Shipping Policy We like to exchange or alter but if we can't we will issue a cash refund. Asking that the customer pays the return shippinge or alter but if we can't we will issue a cash refund. Asking that the customer pays the return shipping



Shipping Options usually USPS priority



Returns & Exchanges We like to exchange or alter but if we can't, we will issue a cash refund. Asking that the customer pays the return shipping



Cancellation if you do something custom you can't cancel after the garment is started



Privacy Policy
We don't sell any info.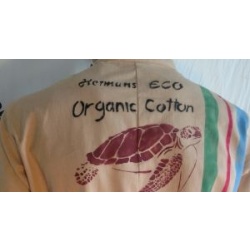 AboutMission StatementWhat We Believe InOur Location...