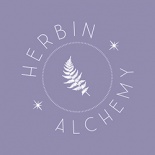 Herbin Alchemy
Herbin Alchemy's quick and easy to use aromatherapy roll-on blends inspire vitality and joy to keep you on top of your game and creating your most inspired life!

Add Review
Herbin Alchemy
Perfume With Benefits. Self-care in a Bottle. Vitality Work. Small Batch. Made with Love. Products with Integrity. Care for Earth. Care for Eachother. Care for Ourselves. We live a good life. Blessed.
Herbin Alchemy Items
Support Herbin Alchemy!
If you enjoy our shop and we align with your values, please click the Love Button in our profile or write a review to spread the word to the Mindful Market community. The more love you share, the more our community will grow and thrive!
Reviews
FAQs
- HERBIN ALCHEMY FAQS -

How do I use the essential oil rollers?

Each blend has detailed information on how to use it on the label. If you have any questions after that please don't hesitate to call or email!

Please email specific blend questions to info@herbinalchemy.com and we will be happy to assist you!

Where do you ship to?


Currently, Herbin Alchemy only ships to the continental US. If you are outside of these boundaries but in love with our products, please reach out to info@herbinalchemy.com and we will do our best to meet your needs. Please note, shipping costs will be billed to the recipient. 


Herbin Alchemy is dedicated to giving you the best shopping and product experience possible. If for some reason you are not completely satisfied, please refer to our policies below.

I did not receive my order:

Please begin by sending an email to info@herbinalchemy.com so that we can send a replacement free of charge. Please understand that we cannot offer a free replacement on orders that are shown as delivered in the tracking updates, nor for orders that were sent to an address that was incorrectly entered. Reshipment costs under these circumstances are the responsibility of the recipient. 

My order was damaged upon receipt:


Please report damages within 24 hours of delivery receipt by sending an email, including clear photo images of the damaged product, to info@herbinalchemy.com so that we can issue an order replacement.


I do not love the product I received:


Herbin Alchemy is dedicated to your product satisfaction and understands that everyone may not resonate with every single product we create. So, if you aren't totally in love with your item we are happy to issue a printable return slip and a store credit upon our receipt of the returned product. 


The store credit applied to your account will be less the return shipping fee. Store credit requests must be submitted within 2 weeks of the date of purchase. Returns must be made within 3 days of receipt of return slip for a credit to be issued. 


Thank you for working with us, and feel free to reach out with any questions! 

Policies
Shipping Policy

We ship out via USPS, within 3 days of order. 

Shipping Options

USPS, standard delivery

Returns & Exchanges

My order was damaged upon receipt:




Please report damages within 24 hours of delivery receipt by sending an email, including clear photo images of the damaged product, to info@herbinalchemy.com so that we can issue an order replacement.




I do not love the product I received:




Herbin Alchemy is dedicated to your product satisfaction and understands that everyone may not resonate with every single product we create. So, if you aren't totally in love with your item we are happy to issue a printable return slip and a store credit upon our receipt of the returned product. 




The store credit applied to your account will be less the return shipping fee. Store credit requests must be submitted within 2 weeks of the date of purchase. Returns must be made within 3 days of receipt of return slip for a credit to be issued. 




Thank you for working with us, and feel free to reach out with any questions! 


Cancellation
If your order is cancelled via email info@herbinalchemy.com before it ships out than you will be refunded in the full amount. 

Privacy Policy
- PRIVACY POLICY -

Herbin Alchemy takes your privacy seriously! Please read below to understand how we use any information you provide to us:




 PRIVACY STATEMENT




SECTION 1 - WHAT DO WE DO WITH YOUR INFORMATION?

When you purchase something from our store, as part of the buying and selling process, we collect the personal information you give us such as your name, address and email address.




Email marketing: By providing your email address you are granting us permission to send you emails about our store, new products and other updates such as blogs and vitality center news. We are very mindful of how often we send content, and only send the good stuff!




 SECTION 2 - CONSENT

How do you get my consent?




When you provide us with personal information to complete a transaction, verify your credit card, place an order, arrange for a delivery or return a purchase, we imply that you consent to our collecting it and using it for that specific reason only.




If we ask for your personal information for a secondary reason, like marketing, we will either ask you directly for your expressed consent, or provide you with an opportunity to say no.




How do I withdraw my consent?




If you decide you no longer want to receive our correspondence you always have the choice to unsubscribe! Either unsubscribe via the link on one of our emails or send an email to info@herbinalchemy.com with your full name and email address so that we can unsubscribe you. No problem!




SECTION 3 - DISCLOSURE


We may disclose your personal information if we are required by law to do so or if you violate our Terms of Service.




SECTION 4 - WIX

Our store is hosted on WIX. They provide us with the online e-commerce platform that allows us to sell our products and services to you.




Your data is stored in WIX data storage, databases, and the general WIX application. They store your data on a secure server behind a firewall.




Payment:

If you choose a direct payment gateway to complete your purchase, then WIX stores your credit card data. It is encrypted through the Payment Card Industry Data Security Standard (PCI-DSS). Your purchase transaction data is stored only as long as is necessary to complete your purchase transaction. After that is complete, your purchase transaction information is deleted.




All direct payment gateways adhere to the standards set by PCI-DSS as managed by the PCI Security Standards Council, which is a joint effort of brands like Visa, MasterCard, American Express and Discover.




PCI-DSS requirements help ensure the secure handling of credit card information by our store and its service providers.

 

SECTION 5 - THIRD-PARTY SERVICES


In general, the third-party providers used by us will only collect, use and disclose your information to the extent necessary to allow them to perform the services they provide to us.




However, certain third-party service providers, such as payment gateways and other payment transaction processors, have their own privacy policies in respect to the information we are required to provide to them for your purchase-related transactions.




For these providers, we recommend that you read their privacy policies so you can understand the manner in which your personal information will be handled by these providers.




Once you leave our store's website or are redirected to a third-party website or application, you are no longer governed by this Privacy Policy.




Links:


When you click on links on our store, they may direct you away from our site. We are not responsible for the privacy practices of other sites and encourage you to read their privacy statements.




SECTION 6 - SECURITY

To protect your personal information, we take reasonable precautions and follow industry best practices to make sure it is not inappropriately lost, misused, accessed, disclosed, altered or destroyed.




If you provide us with your credit card information, the information is encrypted using secure socket layer technology (SSL) and stored with a AES-256 encryption. Although no method of transmission over the Internet or electronic storage is 100% secure, we follow all PCI-DSS requirements and implement additional generally accepted industry standards.




SECTION 7 - AGE OF CONSENT


By using this site, you represent that you are at least the age of majority in your state or province of residence, or that you are the age of majority in your state or province of residence and you have given us your consent to allow any of your minor dependents to use this site.




SECTION 8 - CHANGES TO THIS PRIVACY POLICY

We reserve the right to modify this privacy policy at any time, so please review it frequently. Changes and clarifications will take effect immediately upon their posting on the website. If we make material changes to this policy, we will notify you here that it has been updated, so that you are aware of what information we collect, how we use it, and under what circumstances, if any, we use and/or disclose it.




QUESTIONS AND CONTACT INFORMATION

If you would like to: access, correct, amend or delete any personal information we have about you please don't hesitate to contact us at info@herbinalchemy.com


Herbin Alchemy
Vitality Work. Body & Soul.

About


Herbin Alchemy is comprised of a sweet little vitality center in Denver, Colorado and also provides gorgeous aromatherapy blends for health and wellness. Our products are organic with a couple of the essential oils being wild crafted. I also love to grow herbs and incorporate locally sourced infused oils whenever possible....it's usually possible. All of our blends are infused with love and reiki energy during creation. Check out the ingredients lists for detailed information about each blend. 

I hope you enjoy the product line. I have spent years studying and smelling and testing and developing it. 


Mission Statement
Herbin Alchemy is committed to sustainability. Creating gentle, effective and integrous products is our mission. If the end result is not in alignment with the greater good of our community and our world, then we believe it isn't good for ourselves either. 




We believe in organic, in sustainability, in earth care. We believe in kindness and care for each other and ourselves. We believe that big change starts with a single action and we are all capable of making this world a better place.  


Our Location
Denver, Colorado


Herbin Alchemy
Get in touch!

Report

By email info@herbinalchemy.com 

1574 York Street, Denver, CO, 80206