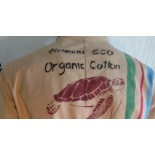 Hermans Eco INC
Hermans Eco AKA as Anna Herman's is a Eco Fashion House based in the USA. we use mostly found natural fabric . do some low impact dyeing and have some organics. We put pictures that are sometimes edgy on the clothes, sometimes just fun things I like. Such a long story why we do it this way . Feel free to ask. We ship plastic free. Yes even the tape.

Add Review
Hermans Eco INC
I'm Eco Fashion Designer Anna Herman. I have broken every rule of The Fast Fashion Industry. I make lots of 1 of a kinds. Production to me is 2 or 3 of the same thing not 300. I make the fashions in America out of mostly saved found natural fiber fabrics. I learned to sew on my Grandmothers knee. A great skill however it is the designs where I shine. It used to be people wore my clothes cause I'm green now people buy them cause they like my designs. In a way it forces them to go green even if they weren't before just to get my fashions, Everything I make is environmentally friendly in 1 way or another. I don't do green certificates. I think my customers are smart and they already know what's Eco Friendly. My best seller is men's clothes however I am equally as good at women's . I have a degree in fine arts with an industrial design background. I am a great cook, a vegetarian, love to go to art galleries and I'm super knowledgeable on vintage fabric. I am a human chameleon and have reinvented the line many times. I live in Montana and I'm a citizen of the world. I care about chemicals in the clothes and the workers. I am deeply ashamed of Fast Fashion companies and I will keep fighting against them. I used to sell at Worldfest in Southern California. While I was there I saw the greyhounds. Later I was able to rescue 2. My lifestyle is green . I don't shop in the big box store, use wall to wall carpets ,eat fast food and I try to avoid plastic. . at Hermans Eco we shop plastic free. I do make videos mostly about environmental issues. if you want to do some surfing they will pop up.
OUR VALUES
Empowers Women
Organizations, companies, and spaces which support gender equality and women's rights.
Ethically Sourced
Products which are produced without compromising the people who execute the production.
Fair Trade
Trade between companies in developed countries and producers in developing countries in which fair prices are paid to the producers.
Family Business
A small business owned by an individual or family as opposed to a corporation.
Recycled Cotton
A type of fiber which is soft to the touch and is used in many textile productions.
Organic Cotton
Cotton that is verified organic at all steps between the farm and the store.
Low Impact Dyes
Coloring which does not use heavy metals or toxic substances and absorbs at a faster rate than typical dyes.
Hemp
A strain of the cannabis plant, used in food, clothing, beauty products, and the like.
Linen
Fabric created using the fibers of the flax plant.
GLOBAL GOOD
We actively work to meet the following UN Sustainable Development Goals:
Gender Equality