Bread and Butter Pickling Trio Pack - FREE Shipping
Bread and Butter Pickling Trio Pack - FREE Shipping
Special Price
US$24.99
Regular Price
US$29.99
Want a great-tasting Bread and Butter pickle? Makes 1.5 gal of pickles Try this pickling spice to create Bread and Butter pickles in just a few days with our Quick Pickle Kit. These pickles have the perfect blend of sweet and tangy with a kick of flavor from the crunchy mustard seeds. Our Bread and Butter pickling spice blends are all-natural and non-GMO. Tastes great with: cucumbers, beets, carrots, cauliflower, garlic, onions, red bell peppers, and more. The spice blends can be used as refills for the Quick Pickle Kit or with your own jars and process. Includes: Three convenient spice packets to make three 0.5 gal jars of delicious Bread and Butter pickles. Add your own sugar to adjust to your tastes. Try Our Other Great Products: Quick Pickle Kit Dill Pickling Trio Pack Bread and Butter Pickling Trio Pack Sweet Pickling Trio Pack Pickling Variety Value Pack Need help pickling? Call our Pickling Hotline! Contact information included with the product.
Returns & Exchanges
Since we offer food products and are in the midst of a pandemic, we cannot accept any returns or exchanges.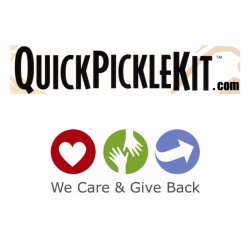 AboutQuick Pickle Kit is a labor of love developed by Andrea Wasko and Meaghan Gilbert utilizing Andrea's mother's recipes that have been in their family for over 100 years.Andrea grew up loving home-canned pickles. Once Andrea made her home in C...