Hummingbird Herb and Soap Co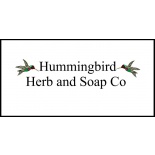 Hummingbird Herb and Soap Co
Consciously crafted herb-infused self-care products and spiritual apothecary. Self Care Shouldn't Be An Afterthought.

Add Review
Hummingbird Herb and Soap Co
Consciously crafted herb-infused self-care products that nurture the body and soul. Make a positive impact on the environment and improve your well-being.

Hummingbird Herb and Soap Co self-care products are manufactured by hand with spa-quality ingredients in small, controlled batches to protect the superior quality of the high-grade ingredients.  Where ever possible we use certified organic materials and always use natural ingredients.  We are committed to promoting environmentally sound practices including our ingredients, packaging and processes to produce our all-natural organic herbal skin care and metaphysical apothecary products in Pueblo, Colorado. Our herbalist, Nancy Kelly, develops her own formulas and sources our raw materials with your health and the environment in mind.

OUR VALUES
Gluten Free
Products not containing gluten, a combination of proteins found in wheat which is known to cause sickness in those with Celiac disease.
GMO Free
Products made without the presence of organisms that have been either created or altered in a laboratory.
Non-Toxic
Products designated to be edible or non-poisonous to consume.
Pesticide Free
A method of food preparation or farming which does not include artificial pesticides .
Petroleum Free
Products made without the presence of petroleum, which passes itself off as a moisturizer, but is truly a pore-clogging substance.
Phthalate Free
Products free from phthalates, a huge class of harmful chemicals, posing a wide range of negative health impacts, that can be found in everything from household cleaners to food packaging to fragrance, cosmetics, and personal-care products.
SLS Free
Products made without the presence of Sodium Laureth Sulfate, a corrosive detergent which damages hair and skin while it cleans .
Sulphate Free
Products free from synthetic cleaning detergents, which causes skin and eye irritation.
Compostable
Objects which are capable of breaking down and returning to the natural environment without any negative impact.
Biodegradable
Objects which are capable of decaying and potentially contributing to a given ecosystem.
GLOBAL GOOD
We actively work to meet the following UN Sustainable Development Goals:
Responsible Consumption And Production