I am a Survivor - Affirmation Wrap Bracelet with Pink Crystal
I am a Survivor - Affirmation Wrap Bracelet with Pink Crystal
This product is aligned with 6 values
I am a Survivor- Affirmation Wrap Bracelet with Pink Crystal. I am a survivor, not a victim. Long story short, I survived. I made it through tragedy and terrible circumstance. I made it through the wars I waged in my own head. No matter how impossible it has felt to keep going, I have kept a light on inside because I am a survivor, not a victim. This affirmation is for my fellow warriors, light-bringers, and believers in another chance to be new. Pink is the color of universal love. Pink is a quiet color. Pink provides feelings of caring, tenderness, self-worth and love, acceptance. Put some pink in your life when you want: calm feelings, to neutralize disorder, relaxation, acceptance, contentment. The sterling silver hand stamped charm is about 1/2 inch. The wrap bracelet is 27 inch long. Wear it as a long necklace or as a wrap bracelet! Handmade with Love in California.
Here we gathered the most Frequently Asked Questions. Should we did not answer yours, please email us at Szilvia@GoghJewelryDesign.com


Q: Can I get my order gift wrapped?
A: Yes. Upon request we can gift wrap items in your order for an $5.00
You will be able to select Gift Wrap at Checkout.


Q: Can I order an item in a different size than it is listed (shorter/ longer)?
A: Yes, just please send us an email with your request and we will be happy to accommodate!


Q: Do you ship internationally?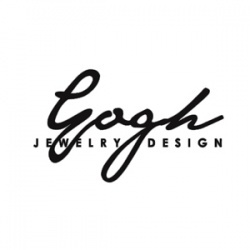 I started my jewelry design business 20 years ago because I love beautiful things, but as an active woman, I couldn't find any silver jewelry that was both meaningful and functional - so I started creating jewelry myself. I wanted to wear jewelry...