I am a Warrior - Affirmation Wrap Bracelet with Amazonite
I am a Warrior - Affirmation Wrap Bracelet with Amazonite
I am a Warrior - Affirmation Wrap Bracelet with Amazonite. We all have to fight for something in life.

We are all warriors in our own way, forging our best path. As a fiercely dedicated yogi, I share this- The Warrior Pose is named after the fierce warrior Virabhadra, who is said to symbolize our inner ability to overcome ego and ignorance. The warriors challenge and test us but in doing so bring us strength, focus, confidence and courage. May we all stand tall like a warrior in these crazy times, never forgetting to show up and stand up for each other. 
Warriors put themselves on the line for what they believe in. No matter how tough the battle is, the warrior never give ups. She / He learns to endure until she / he overcomes all the adversities facing her / him.
In life, you're going to encounter hard times at some point. This means you must be prepared to endure pain and find solutions at any moment. You must develop the mental toughness of a warrior that will enable you to face and overcome any challenge or adversity life throws at you.
You are the hero of your life and those you care about. Therefore, you have to develop a warrior mindset and learn to grow from pain, setbacks, failures, obstacles, challenges, losses, and all the hard times in your life.
Called the Stone of Courage and the Stone of Truth, Amazonite empowers one to search the self and discover one's own truths and integrity, and to move beyond fear of judgment or confrontation with others to live in alignment with those beliefs and values. It provides the freedom to express one's thoughts and feelings.
The sterling silver hand stamped charm is about 1/2 inch. The wrap bracelet is +/- 27 inch long. Wear it as a long necklace or as a wrap bracelet!
 Handmade with Love in California.
Here we gathered the most Frequently Asked Questions. Should we did not answer yours, please email us at Szilvia@GoghJewelryDesign.com


Q: Can I get my order gift wrapped?
A: Yes. Upon request we can gift wrap items in your order for an $5.00
You will be able to select Gift Wrap at Checkout.


Q: Can I order an item in a different size than it is listed (shorter/ longer)?
A: Yes, just please send us an email with your request and we will be happy to accommodate!


Q: Do you ship internationally?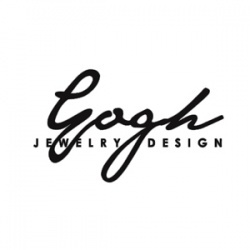 I started my jewelry design business 20 years ago because I love beautiful things, but as an active woman, I couldn't find any silver jewelry that was both meaningful and functional - so I started creating jewelry myself. I wanted to wear jewelry...