I am who I am - Affirmation Wrap Bracelet
I am who I am - Affirmation Wrap Bracelet
This product is aligned with 6 values
I am who I am - Affirmation Mindfulness Wrap Bracelet with a Mix of Semi-Precious Chakra Healing Stones. To be yourself in a world that is constantly trying to make you something else is the greatest accomplishment. Acceptance, especially self-acceptance doesn't mean not to strive to be greater. But it is rather a state when you realize that you are comfortable in your own skin. Maybe, even happy. Wanting to fit in with the crowd is a human nature, but it doesn't always serve us. Fitting in doesn't always equal with us being happy. By accepting yourself right now, as you are, you can and will still strive to grow, go in a direction that fulfills you. You will do things that you are passionate about. You will visit far-a-way places that interest you. You befriend those you find fascinating. When you can proudly say it and mean it 'I am who I am', you will have your own unique style that reflects your thoughts and personality. "To be yourself in a world that is constantly trying to make you something else is the greatest accomplishment." Ralph Waldo Emerson Healing stones, crystals and semi-precious gemstones come from one unified source - Mother Earth. Created from the magma or Earth's inner core, healing stones have gone through a geologic process of heating, cooling and displacement on their way to their present form. The energy field of different gemstones is influenced by geometrical form, color and subtle vibration. Each stone is made up of minute crystals which are in constant motion thus emitting an energy signature or frequency. The gemstone's color also plays a dynamic role in the stone's healing energy. The play of light and color can stimulate or calm; purify or heal. A magical and symbiotic connection has always existed between human beings and gems. Evidence of gemstones used for healing has been found as far back as the fourth millennium before Christ. Ancient civilizations such as the Chinese, Egyptians, Sumerians, Greeks, Romans, or Shamans and Medicine Men have used gemstones for healing in multiple ways - made into powders or elixirs, worn, carried or placed on the body and in ceremonies or rituals. This ancient knowledge has been passed down to our day and with the emerging popularity of holistic health and healing the use of gemstones is again making its way into modern life. Please note that this bracelet is made of random semi-precious stones from Mother Nature and may look different than on the picture. 27 Inch long crystal wrap bracelets. Wear them as a layered bracelet or as a stylish, chick, long necklace - It is up to how do you feel the morning you wake up. The sterling silver hand stamped charm is about 1/2 inch Handmade with Love in California.
Here we gathered the most Frequently Asked Questions. Should we did not answer yours, please email us at Szilvia@GoghJewelryDesign.com


Q: Can I get my order gift wrapped?
A: Yes. Upon request we can gift wrap items in your order for an $5.00
You will be able to select Gift Wrap at Checkout.


Q: Can I order an item in a different size than it is listed (shorter/ longer)?
A: Yes, just please send us an email with your request and we will be happy to accommodate!


Q: Do you ship internationally?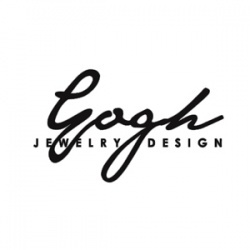 I started my jewelry design business 20 years ago because I love beautiful things, but as an active woman, I couldn't find any silver jewelry that was both meaningful and functional - so I started creating jewelry myself. I wanted to wear jewelry...