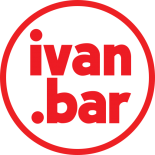 ivan.bar
delicious. healthy. filling.

Add Review
ivan.bar
ivan.bar lovingly makes the most delicious bars on the planet. Filling, healthy, and. they taste amazing! I crafted these bars for myself, but they caught on with friends and family, and the ivan.bar was born!
OUR VALUES
No Dairy
Food and beverage free of milk or products containing milk.
No Dyes and Color Additives
Food and beverage free of pigments which add color to food and drinks.
No Eggs
Food and beverage free of all eggs laid by animals.
Omega 3's
Fatty acids, often found in fish and seeds, which provide varying health benefits.
Omega 6's
Fatty acids which have anti-inflammatory and pro-inflammatory effects.
Fiber
Part of plant-based foods which cannot be digested and therefore, helps to regulate sugar in the body.
Protein
One of the essential nutrients which compose human body tissue and produce energy.
No Preservatives
Food and beverage free of substances which delay or prevent decay.
Vegan
Product is completely free of animal products and byproducts.
Gluten Free
Products not containing gluten, a combination of proteins found in wheat which is known to cause sickness in those with Celiac disease.
GLOBAL GOOD
We actively work to meet the following UN Sustainable Development Goals:
Good Health