Kitty Kebab Sustainable Cat Scratching Post
Kitty Kebab Sustainable Cat Scratching Post
The Kitty Kebab is not only the most eco-friendly scratching post on the planet, but it's also the last one you'll ever have to buy! Cats can only reach a fraction of the scratchable surface on traditional posts and, before you know it, they are shredded beyond use; however, with the Kitty Kebab, you can easily replace the worn sections as needed! The Kitty Kebab is constructed with a special mix of green materials, such as a wood-like material created with upcycled rice hulls and recycled cardboard sourced from our pet industry partners. To ensure the utmost quality, the Kitty Kebab, like all of our products, is handmade in small batches in Seattle, WA, USA. As seen in Modern Cat Magazine and reviewed on Hauspanther.com FEATURES & BENEFITS Twist-Off Cap The top can be quickly unscrewed an unlimited number of times to easily access the cardboard inserts when it comes time to replace them Cardboard Refills You have options when your cat wears out a section of the Kitty Kebab, and none of them involve the garbage like they do with other scratchers! We offer pre-cut refill packs or you can carefully make your own. Modular Design Vertical or horizontal? Let your kitty decide. The detachable base allows for an easy transition between either an upright post or a scratcher which lays flat on the ground. Durable Materials Not only do we use the most eco-friendly materials possible, but we ensure they are beyond industry standards in regard to their longevity. Considering you can perpetually swap out the cardboard, you need the rest of the post to last forever, too! Perfect Size Cats need to stretch out when they scratch and we found that most posts aren't long enough to enable this while others are excessively tall; our analysis determined two feet of scratchable surface was the magic number for most kitties. We also made sure this height was properly supported and the sturdy base does just that without making a massive footprint. MATERIALS ACRE is a tree-free wood alternative made primarily with upcycled rice hulls. This sustainable material maintains a similar look and feel to wood, but has enhanced durability and performance. Plus, it's free of phenol, formaldehyde, and adhesives (nasty things you will find in traditional scratching posts). ACRE is developed and manufactured in Fernwood, Mississippi, USA and is Green Builder's 2022 Sustainable Product of the Year! The 100% recycled cardboard we use for the inserts is acquired from organizations who often have slightly dented, misprinted, etc., shipping boxes, which usually just get disposed of. Now, companies, like Dr. Elsey's, supply us with these otherwise brand new boxes for one more journey before being recycled by you! The small amount of wood we use is FSC certified Douglas fir, which was sourced in the Pacific Northwest. A Forest Stewardship Council certification ensures the lumber was responsibly harvested in accordance with strict global standards. SPECS Height: 26.5" Base: 11.5" x 11.5" Weight: 9 lbs. 8 oz. ASSEMBLY The Kitty Kebab requires a wee bit of assembly. You will need a 3/16" hex key (aka Allen wrench) to attach the base to the scratcher, this tool can be purchased as an add-on, if you don't already have one.
Shipping Policy

Our products are shipped around the globe from Seattle, WA, USA via the United States Postal Service (USPS) or the United Parcel Service (UPS). We usually ship items between one and five business days from the initial order date, but delays can occur and you will be notified if such an occurrence transpires. As for actual shipping times, consult the shipping notification email and enter your tracking number where prompted. Please, don't hesitate to contact us with any questions.


Returns & Exchanges

We accept returns and exchanges on any unused, undamaged, non-discounted and non-personalized products. Simply return the item(s) and its packaging within 14 days of the date you received your order and we will either provide a full refund (minus all shipping costs) or an exchange for the same item (if available). Once again, don't hesitate to contact us with any questions.

Cancellation

If you have a concern about an unshipped order, please contact us; however, once an order has been shipped, it cannot be changed nor cancelled.

Privacy Policy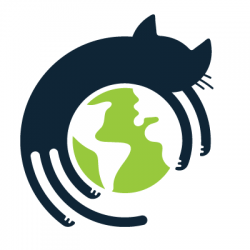 AboutA few years ago, my cat, Krang, needed a new scratching post. Every time this happens, I drag my feet, because disposing of them seems like such a waste; cats only shred a small section of their scratchers, leaving the rest untouched. Also, gett...