Labradorite Earrings for Change (GF)
Labradorite Earrings for Change (GF)
This product is aligned with 6 values
Stunning. I'm so in love with these earrings!! The color, the size the beauty of hand crafted love! More importantly what the stone represents, Change. As I progress thru this journey of life, the one thing that is constant is "change" . These beautiful earrings remind me how Change is beautiful and to be embraced, as something amazing is happening!!!," said our customer, Amy Johnson. They say Labradorite stones contain energies that will boost ones ability to repel anxiety and depression, and inspire the wearer with a sense of enthusiasm and self-confidence. It inspires perseverance and strength when constantly bombarded with conflict. Labradorite aides in relieving insecurity, and boosts confidence in ones own abilities. It has within it a deeply felt resonance that is very powerful, and it can be used to bring amazing changes to your life. Wearing it just seems to charge you with a sense of excitement and adventure, to take the steps required to go where you have not gone before! On a Gold Filled earring with CZ hangs the tear drop shaped Labradorite crystal. Total length of earring is about 1.5 inch. Made with Love in California.
Here we gathered the most Frequently Asked Questions. Should we did not answer yours, please email us at Szilvia@GoghJewelryDesign.com


Q: Can I get my order gift wrapped?
A: Yes. Upon request we can gift wrap items in your order for an $5.00
You will be able to select Gift Wrap at Checkout.


Q: Can I order an item in a different size than it is listed (shorter/ longer)?
A: Yes, just please send us an email with your request and we will be happy to accommodate!


Q: Do you ship internationally?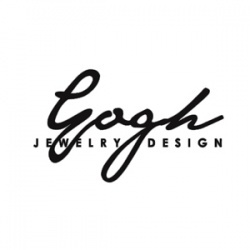 I started my jewelry design business 20 years ago because I love beautiful things, but as an active woman, I couldn't find any silver jewelry that was both meaningful and functional - so I started creating jewelry myself. I wanted to wear jewelry...