Laura Zabo Upcycled Accessories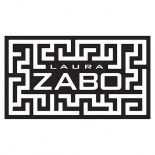 Laura Zabo Upcycled Accessories
Add Review
Laura Zabo Upcycled Accessories
Laura Zabo strives to create a cleaner world by upcycling scrap tires. Working with

discarded bicycle/car tires and inner tubes that she saves from a future as landfill, she has developed a visually stunning and environmentally focused selection of belts, jewellery, sandals, shoe soles, and even clothing.

"The abundance of trash is a tremendous problem for our planet, and we need to make more room for ideas that help us get rid of it or transform the excess, instead of producing more and more."

Every tire has its own story and no two products are identical. Individually collected, retooled and reborn, Laura Zabo's fashion range is an embodiment of the recycling, low waste movement. Whilst her belts and jewellery may ease the conscience, the look and style is paramount to her – this is not 'make do and mend' but rather a couture makeover for something that would otherwise just be binned.

Laura ZABO is a PETA approved Vegan brand.




OUR VALUES