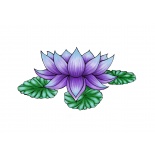 Lotus Tribe Clothing
We specialize in yoga and movement lifestyle wear that is Earth friendly and ethically created for the nature loving conscious consumer.

Add Review
Lotus Tribe Clothing
Lotus Tribe is committed to being as Earth friendly as possible. We offer an alternative to the synthetic fast fashion that dominates the clothing industry. We use only plant based fabrics. We ship in plastic free packaging. And we plant a tree for every item we sell. (15,000 and counting as of November 2021)


Everything is ethically hand made is small batches. For this reason, the tie dye will be similar to the photos shown, but not exact, as each garment is literally a one of a kind work of art.

We were excited to transition over to using an organic cotton fabric right before covid, but the supply chains dried up as factories went out of business globally. We have since gone back to using traditionally grown cotton, but we will switch back as soon as we find a source! We are always looking for ways to be more green and give back to the planet.

Our goal is to offer the most flattering, best looking, affordable yoga wear on the market. We have a size inclusive line with sizes XS-XL. Your order will be shipped without extraneous packaging, wrapped in tissue paper inside either a recycled paper envelope or reuseable cardboard box, completely plastic free and compostable.

For the full story of how we started and the first 5 years of business, check out our blog on our website:

https://www.lotustribeclothing.com/blogs/eco-fashion-lifestyle/how-it-all-started-the-story-of-lotus-tribe-clothing

You can read all of our Blog Library with topics from yoga to environmentalism here:

https://www.lotustribeclothing.com/blogs/blog-library

We also have a Community section with links to free yoga classes, breathwork sessions, guided meditations as well as Health, Astrology and Online Women's Circles all here:

https://www.lotustribeclothing.com/pages/tribe-community

You can also shop by color with our Collection Page:

https://www.lotustribeclothing.com/collections

Thanks for taking the time to get to know us and welcome to the Tribe!