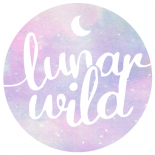 Lunar Wild
Stay Wild, Moon Child!

Add Review
Lunar Wild
Lunar Wild is a women's empowerment brand dedicated to the sacred alchemy of womanhood. Our focus is supporting and celebrating young women as they approach the onset of their first menstruation with a one-time gift box that celebrates their first period while breaking down stigmas surrounding menstruation.

Check out our story to learn more! 

Lunar Wild Items
Support Lunar Wild!
If you enjoy our shop and we align with your values, please click the Love Button in our profile or write a review to spread the word to the Mindful Market community. The more love you share, the more our community will grow and thrive!
Reviews
Policies
Shipping Policy
As this item is handcrafted and uniquely customized just for you— please allow 2-3 weeks for shipping and delivery.

Shipping Options
Free shipping with USPS Priority Mail on all US orders! 

Returns & Exchanges


Cancellation


Privacy Policy

Lunar Wild values the users of our website. Your privacy and trust are very important to us. We recognize that you may be concerned about our collection, use, and disclosure of the personally identifiable information ("Personal Information") that we collect when you use the website and the services offered on the website ("Lunarwild.com"). If you have any questions or comments regarding this Privacy Policy, please contact us at hello@lunarwild.com or by phone 917-818-3006.

This privacy notice discloses the privacy practices for www.lunarwild.com. This privacy notice applies solely to information collected by this website. It will notify you of the following:

What personally identifiable information is collected from you through the website, how it is used and with whom it may be shared. 

What choices are available to you regarding the use of your data. 

The security procedures in place to protect the misuse of your information. 

How you can correct any inaccuracies in the information. 

Information Collection, Use, and Sharing 

We are the sole owners of the information collected on this site. We only have access to/collect information that you voluntarily give us via email or other direct contact from you. We will not sell or rent this information to anyone.

We will use your information to respond to you, regarding the reason you contacted us. We will not share your information with any third party outside of our organization, other than as necessary to fulfill your request, e.g. to ship an order.

Unless you ask us not to, we may contact you via email in the future to tell you about specials, new products or services, or changes to this privacy policy.




Your Access to and Control Over Information 

You may opt out of any future contacts from us at any time. You can do the following at any time by contacting us via the email address or phone number given on our website:

See what data we have about you, if any. 

Change/correct any data we have about you. 

Have us delete any data we have about you. 

Express any concern you have about our use of your data. 




Security 

We take precautions to protect your information. When you submit sensitive information via the website, your information is protected both online and offline.

Wherever we collect sensitive information (such as credit card data), that information is encrypted and transmitted to us in a secure way. You can verify this by looking for a lock icon in the address bar and looking for "https" at the beginning of the address of the Web page.

While we use encryption to protect sensitive information transmitted online, we also protect your information offline. Only employees who need the information to perform a specific job (for example, billing or customer service) are granted access to personally identifiable information. The computers/servers in which we store personally identifiable information are kept in a secure environment.

If you feel that we are not abiding by this privacy policy, you should contact us immediately via telephone at 917-818-3006 or via email hello@lunarwild.com




Orders 

We request information from you on our order form. To buy from us, you must provide contact information (like name and shipping address) and financial information (like credit card number, expiration date). This information is used for billing purposes and to fill your orders. If we have trouble processing an order, we'll use this information to contact you.

Lunar Wild will never disclose any of your information to a third-party or to any other company or organization. Your information is strictly for the purposes of Lunar Wild and the terms described herein.




Lunar Wild
The First Period Gift Box is a luxe keepsake/gift box created with the hope and intention that mothers, fathers, grandparents, aunts, sisters, and mentors would offer it to young women in preparation for menstruation (even if the event itself is months or years away). It's the gift you give before her period!

The Box contains a selection of mindful menstruation products that may include:



Organic disposable pads & tampons
An eco-friendly reusable cloth pad
Non-toxic, BPA-Free Reusable menstrual cup
Empowered literature about womanhood and period management
A selection of carefully curated self-care gifts that may include items such as candles, feminine balance tea, bath salts, special moon jewelry
And so much more!



Mission Statement
Lunar Wild's mission is to support young women as they approach their first menstruation with a one-time gift box that celebrates their first period while breaking down stigmas surrounding menstruation.

What We Believe In
We believe that it is our collective responsibility to ensure the next generation of women know their power and use it responsibly. This starts with empowering young women with information about the beauty and magic of menstruation.


Our Location
37 Hamburg Street, East Aurora, NY - 14052




Learn More!

Read our Founder's story

here

.

Hey, wild one! Say hello. ❤

Can we send you love notes? Sign up for our newsletter to stay in the loop. No junk mail, it's not our style! ❤ 

37 Hamburg Street, East Aurora, NY, 14052