This product is aligned with 10 values
12 pk Want a snack that's exotic and sweet? This fiber fruit is packed with the goodness of vitamin C and more. Get your healthy fruit snacks here! Save with monthly subscription $14.40 > Nothing but fruit Organic Apple Organic Pear Organic Mango Organic Lemon Juice
PRIVACY
Peaceful Fruits will never share or sell your email or any other personal information. We are very sensitive to the privacy concerns of visitors to our website, and we will protect your information accordingly. Your payment information is encrypted, not visible to us, and handled by a leading payment processing company. We use your information to contact you and fulfill orders. We monitor and improve our website and service by using web tools such as Google Analytics, Facebook, and Pinterest. Please contact us if you have any questions or concerns.
PARTNERS
Join our network of retailers, or bring healthy snacks to your school, business, or association.
Reach out here or call us @ 330-356-8515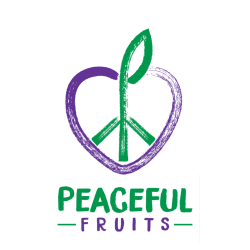 Our roots are in Suriname, a small country in the Amazon rainforest where founder Evan Delahanty worked as a Peace Corps volunteer. Helping indigenous people with economic development, he was struck by their love of the land and their natural embrace...