Meditation Aromatherapy - Votive
Meditation Aromatherapy - Votive
Euphoric & relaxing Featuring a hand-drawn Enso the Zen Buddhist symbol of enlightenment and the universe on the front. Sit back and let the essential oils of lavender and sage encourage peace of mind and relaxation. 100% pure beeswax blended with the pure essential oils of Lavender (Lavendula angustifolia) and Sage (Salvia officinalis). Created using eco-friendly dyes and a cotton wick. Color: Saffron Burn time: 15 hours Size: 1.75" x 2" Care instructions: - Always use a votive holder when burning votive candles, make sure the votive is snug in the holder so the candle can pool and burn evenly. - Allow to burn for at least one hour each burn, trim wick to ¼" when needed. - Always burn on a level surface and NEVER leave unattended.
Shipping Policy
We ship within 3 business days
$9 flat rate shipping
Return Policy
We want you to be 100% satisfied with your Sunbeam Candles experience. Please contact us within seven days of receiving your order with any questions or concerns. Return authorization is required for all returns.
All orders include a complementary Sunbeam matchbook!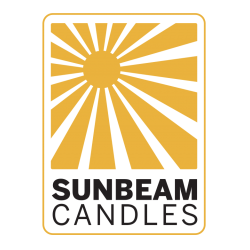 AboutSince 2004, our mission has been to create a beautifully handcrafted product with the least cost to mother earth. To this day, through the growth of our business - and family - our mission remains the same. Thank you for your support and care in...