Mens Fringed Jacket L 42 striped Hermans Eco
Mens Striped Fringe Jacket zip up has 1 pocket size 42 . Cotton Hermans Eco designed by Anna Herman . From shoulder to shoulder is 21" from pit to pit is 26" waist is 40" down the back from below the collar to the end is 27" , it is a short jacket can be worn as a shirt also fringe in back and on the sleeves and pocket. From the shoulder to the end of the cuffed sleeve is 23" . Has a big collar. Made in USA. We shop fast, free and plastic free.
Shipping Policy We like to exchange or alter but if we can't we will issue a cash refund. Asking that the customer pays the return shippinge or alter but if we can't we will issue a cash refund. Asking that the customer pays the return shipping



Shipping Options usually USPS priority



Returns & Exchanges We like to exchange or alter but if we can't, we will issue a cash refund. Asking that the customer pays the return shipping



Cancellation if you do something custom you can't cancel after the garment is started



Privacy Policy
We don't sell any info.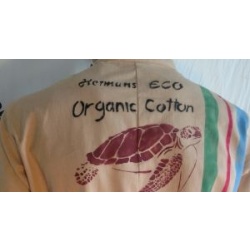 AboutMission StatementWhat We Believe InOur Location...