This product is aligned with 5 values
Men's romper jumpsuit Size smallmen's Romper shorts light weight cotton , white and tan check , light weight. Made in USA , Deer Lodge ,Montana Gentle wash line dry is best for the garment and the environment, if you wear a 36 to 38 jacket this will fit you. pockets and belt , waist goes to 35" without the belt ,the belt tightens it would be fine for waist 28 to 33" has front pockets zips up the front you can leave it open some zipper goes all the way to the collar , gentle wash cold is best regular wash is ok on this one but take the belt off . from armpit to armpit is 21" from shoulder to shoulder is 18" inseam is 6" waist without the belt goes to 35 . Made from found fabric cotton . Made in USA , I will try to fit everyone and I am going to make some different sizes in different fabrics found vintage fabrics and natural colored organic cotton . We ship the next day and use plastic free shipping .
Shipping Policy We like to exchange or alter but if we can't we will issue a cash refund. Asking that the customer pays the return shippinge or alter but if we can't we will issue a cash refund. Asking that the customer pays the return shipping



Shipping Options usually USPS priority



Returns & Exchanges We like to exchange or alter but if we can't, we will issue a cash refund. Asking that the customer pays the return shipping



Cancellation if you do something custom you can't cancel after the garment is started



Privacy Policy
We don't sell any info.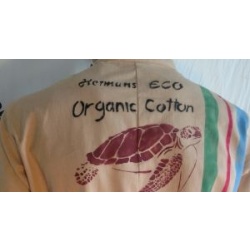 AboutMission StatementWhat We Believe InOur Location...