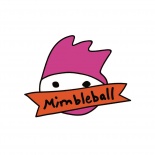 Mimbleball
Mimbleballs are round plush therapy toys and gifts with super-soft, kinetic, zany hair that spontaneously inspire joy, laughter, connection, and comfort. Their kind, wide-set eyes make them the perfect listening companions. Their secret power: when gently shaken or patted underneath, the hair stands straight up.

Add Review
Mimbleball
Mimbleballs are round plush therapy toys and gifts with super-soft, kinetic, zany hair that spontaneously inspire joy, laughter, connection, and comfort. 

Their kind, wide-set eyes make them the perfect listening companions. Their secret power: when gently shaken or patted underneath, the hair stands straight up.
OUR VALUES
Supports Charity
Organizations/businesses that show consistent financial and/or other support to select charity/charities.
Woman Owned Business
Businesses which are owned and operated by solely women.