Oil pulling is the ancient Ayurvedic ritual of pulling or swishing oil through the teeth to support overall oral health & hygiene. Use daily to strengthen gums, whiten teeth, eradicate plaque & draw toxins out of the body. Oil pulling is also beneficial for TMJ. HOW TO USE Directions: Vigorously swish & pull 1-2 tsp. of oil around the mouth & in-between the teeth. Continue for 5 to 20 minutes. Caring for your products: Store in a cool, dry place away from sunlight. Avoid contamination by keeping moisture out of the bottle. Close lid tightly after each use. Life of your products: Since there are no preservatives, please use within 6-8 months. FULL LIST OF INGREDIENTS: Sesame Oil*, Coconut Oil*, Turmeric*, Bayberry*, Barberry*, Bhringaraj*, Amalaki*, Clove*, Cinnamon & Essential Oils of Peppermint* & Spearmint* *certified organic THE AYURVEDIC APPROACH According to Ayurveda, digestion begins in the mouth. Therefore, proper oral care is not only necessary for a pearly white smile, but is also essential to a healthy digestive system. Keep your teeth & gums strong for chewing & eliminate toxins from further entering your body via the daily practice of Oil Pulling.
SHIPPING & RETURNS:
Please expect your order to ship within 1-3 business days.
Your happiness is important to us! Therefore, we want you to be completely satisfied with your purchase.
If you are not 100% satisfied, please feel free to e-mail us at CustomerService@PaavaniAyurveda.com to make a return or exchange.
All returns/exchanges are subject to the following conditions:
-Must be returned within 30 days of the purchase date.
-Product must have at least ¾ of its contents remaining.
-Please allow up to 10 business days for an exchange or refund to be processed. Once finalized, an e-mail will be sent notifying you of the status of your refund.
-We do not refund initial shipping & handling charges for items returned.
-For any return or exchange, you are responsible for all shipping & handling costs. If the package does not reach us, we will be unable to complete the refund/exchange.
SEND RETURN TO:
PAAVANI Ayurveda
12540 Loma Rica Drive
Grass Valley, CA 95945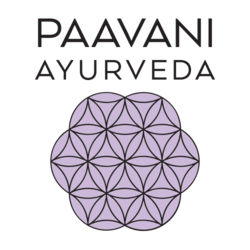 ANCIENT AYURVEDA FOR THE MODERN WORLD PAAVANI Ayurveda is an artisan line of small-batch, pure, organic health & skincare products formulated in Northern California. Handcrafted with the wisdom of Ayurveda, our products offer ancient traditions ...