This product is aligned with 9 values
Experience Moroccan cooking with the flavours of our authentic spice mixes. Easy to use, the spice set package includes Moroccan Magic, a Marrakesh style blend, Ras el Hanout, the traditional "top of the shop" with more than 15 different ingredients, and for bold flavours, Hot Hot Maroc, a fiery blend from the south. Each fresh artisanal blend spice mix is 30grams, (1 ounce), packaged in a resealable foil pouch, to protect from light and air. Each package is enough for at least 4 dishes - 20 servings, and recipe cards for each blend with vegan options are included. And to add some heat, a package of Harissa mix - the fiery spice blend of North Africa. All our spice mixes are vegan friendly, with no fillers or preservatives. All natural, certified organic ingredients, with sea salt or natural Himalayan pink salt. And to complete the experience, a package of Moroccan Mint tea from Casablanca Tea Co. The perfect date night, cook a romantic meal together.
Shipping Policy



Shipping Options



Returns & Exchanges



Cancellation



Privacy Policy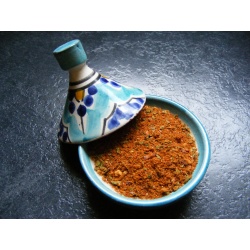 LOVE WHAT YOU EAT, EAT WHAT YOU LOVE Food is the best way to experience a new culture, either travelling or in your own kitchen. It all comes together with spices and flavours, when you can bring home the taste of the dishes you enjoy, and recreate ...