Mushroom Man of Peotone LLC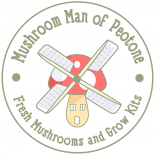 Mushroom Man of Peotone LLC
All of my mushroom grow kits are made by my hands in my workshop and ship for free, arriving with simple written instructions. Most indoor kits require no watering at all, and everything needed is already inside the sealed bag. Mushroom growing support is part of every purchase from me. Any questions that you have about your grow, I will help answer if you contact me through this shop..

Add Review
Mushroom Man of Peotone LLC
My mushroom grow kits are an environmentally-friendly purchase with a positive impact on the Earth. As your Mushroom Man of Peotone, I'm committed to reducing and keeping my carbon footprint small.

That commitment begins with using biodegradable, compostable mushroom grow bags with every kit, natural materials, and low-impact production methods. My mushroom grow kits are shipped to you FREE via United States Postal Service Priority Mail.
I use ONLY biodegradable mushroom grow bags for all mushroom kits
My dry-bagging process uses only 0.50 gallons of fresh water and clean electrical heat to produce each kit
Perfectly-sized recyclable shipping boxes made with post-consumer content and minimal materials waste



How would your life change if you had access to an endless supply of mushrooms? Grow them yourself with simple methods that any gardener can learn. Come see me at dirtybasementgiantmushrooms.com to learn more!
OUR VALUES
Ayurveda
Traditional Indian system of alternative medicine; based on the idea that health and wellness depend on a delicate balance between mind, body, and spirit.
No Caffeine
Food and beverage free of psychoactive drug which stimulates the central nervous system.
Cholesterol free
Food and beverage free of or low in a kind of lipid which is imperative for animal cell membranes; wax-like substance; high levels of cholesterol have been linked to heart conditions.
No Dairy
Food and beverage free of milk or products containing milk.
No Dyes and Color Additives
Food and beverage free of pigments which add color to food and drinks.
No Eggs
Food and beverage free of all eggs laid by animals.
No Fat
Food and beverage free of plant and animal fats.
No GMO's
Food and beverage free of genetically modified organisms, or organisms that are the direct result of genetic engineering.
Fiber
Part of plant-based foods which cannot be digested and therefore, helps to regulate sugar in the body.
Protein
One of the essential nutrients which compose human body tissue and produce energy.
GLOBAL GOOD
We actively work to meet the following UN Sustainable Development Goals:
No Poverty
Zero Hunger
Good Health
Quality Education
Gender Equality
Clean Water And Sanitation
Affordable And Clean Energy
Decent Work And Economic Growth
Industry, Innovation And Infrastructure
Reduced Inequalities