My Teacher Is The Star Who Taught Me How To Shine Hand Stamped Vintage Silver Spoon, Gift for Teacher, Back To School, Teacher Gift


My Teacher Is The Star Who Taught Me How To Shine Hand Stamped Vintage Silver Spoon, Gift for Teacher, Back To School, Teacher Gift
For a flowerpot or as a gift embellishment, this flattened spoon is a wonderful gift for your favorite teacher or instructor. This listing is for a spoon that reads "My Teacher Is The Star Who Taught Me How To Shine". Each piece of silverware is hand selected, hand polished and hand stamped. Our pieces are sourced from estate sales, online sales and thrift stores and then are lovingly turned into heirloom gifts that bring a sense of joy and nostalgia. All pieces are silver-plated. The stamped silverware intended for use in flowerpots and gardens may show signs of wear. Most pieces will have the silverware pattern name and year of design identified on the back of the product tag. Each piece of silverware is hand-stamped one letter at a time. Alignment may not always be perfect but each piece is made with love and care. Check out our newest teacher spoon! https://www.etsy.com/ca/listing/689056103/teaching-is-my-superpower-hand-stamped?ref=shop_home_active_1
***Shipping does not include insurance and tracking at the rate charged, but can be upgraded.
Seller is not responsible for packages that go missing that are not tracked or insured.**
**Please note that orders do not include tracking and insurance unless stated in the listing* This is due to the high cost of tracking and insurance to ship outside of Canada. Orders to the USA will include tracking and insurance once a combined total of a minimum of 4 items has been ordered. International orders do not include tracking and insurance.
--------------------------------------------------------------------
Welcome to 'and then again'! Our bespoke heirloom gifts include hand-stamped vintage silver-plated flatware and re-envisioned gift items. We are so glad you stopped by!
Please feel free to message us about custom orders or any sayings requests!
We have many sayings in our inventory that are not yet in our shop.
Visit our blog at www.and-then-again.com
Like us on facebook www.facebook.com/andthenagaindesigns
Instagram: @andthenagain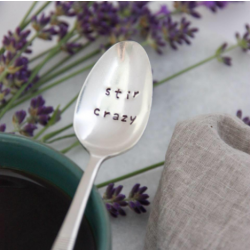 How To Polish Silverware One question that I get quite often is, "What do you polish your silverware with?" So, I made a little video to show you exactly what I use and how I do it. This is the best way to take care of your '...and ...