Natural Eco-Friendly Liquid Hand Soap Refills 4 Zero Waste Eco Friendly Products Gifts - HONEY COCO MANGO
Natural Eco-Friendly Liquid Hand Soap Refills 4 Zero Waste Eco Friendly Products Gifts - HONEY COCO MANGO
Adding another great scent, Honey Coco Mango. 4 pods = 48 ounces of natural liquid hand wash Not only can you smell the coconut but with added extra sweetness to it, that is so mind relaxing and almost makes you feel like you want to eat it. It's that good. All Soap Bullets are made from olive oil, coconut oil, castor oil, sunflower oil and aloe extract. These are NOT made from synthetic surfactants like coco betaine, lauryl glucoside, polys or all those other synthetics that claim to be plant based and are just doing the same amount of damage to our planet like all the other cheap filled soaps. Don't buy into that! The soap bullet pods are made 100% Eco-Friendly and skin friendly. That means from production to shipping, to washing your hands and all the stuff that goes down the drain...... all steps are mother nature friendly. All soap bullets are hand-made from cooking the luxurious nutrient rich oils on a low, slow cook, to wrapping and sealing each individual pod into a 100% Biodegradable pod. The bullets easily dissolve into 12 ounces of any water, using your own available soap pump. You can also dissolve it into 16 ounces of water. It won't be as thick but it will be just as effective in cleaning. My soap bullets won't cost you. With them being .44 cents an ounce (with shipping), that's saving $$$ -with special discounts I send out you can pay less than 30 cents an ounce - adding more water with the special discounts get you to less than 25 cents an ounce. The soap bullets are also formulated to be non drying to hands. They were formulated to keep mother nature safe by knowing what is going down the drain and ending up in our water systems. I thought of this all the way through!! Keeping you safe and our Planet. Eco-Friendly Liquid Hand Soap Pods Made in USA in the lovely state of Ohio right next to our beautiful Lake Erie. Safe Hand wash refill you can use, store and save the planet easily.
Shipping Policy: We want to make sure your item reaches you. If you have any issues with your item. Please contact me so I can help you in any way I can.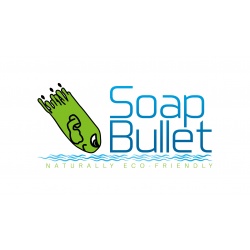 About: It's just me over here trying to better the world by making it easy for people to wash their hands safety and effectively without leaving harmful chemicals the are later found in our water systems and dirt. Mission Statement: Cleaning the p...