Nevena organic toner - Bulgarian rose water and wild peppermint
Nevena organic toner - Bulgarian rose water and wild peppermint
Nevena is a cooling and refreshing, natural Bulgarian rose and peppermint toner that will help deeply cleanse your skin. Each soothing spray after cleansing helps clear skin, balancing the PH and minimizing pores, preparing your face to receive our anti-aging ingredients, for a young revitalized look. We use organic vegetable glycerin which locks in moisture white organic willow bark extract soothes stressed skin. Bolstered by a broad spectrum of natural alpha hydroxy acids derived from multiple organic fruits such as bilberry, orange peel and cranberries. Nevena toner gently exfoliates dead skin cells, restoring the appearance of a youthful, glowing complexion. With ingredients like these, it's hard not to brag. Our 4 ounce glass bottle is environmentally friendly providing a sumptuous amount of toner for months. 95% organic Waterfall Glen Soap Company is 99.9% plastic free. DIRECTIONS: Nevena gently exfoliates dead skin cells, restoring the appearance of a youthful, glowing complexion. Shake or Mix toner before use. After cleansing face, apply a moderate amount of toner to a cotton ball and gently apply all over the face in upward motions. Allow to dry, and follow with a moisturizer. You can also use the toner in a spray bottle to lightly spritz over your face if you prefer. INGREDIENTS: Organic Aloe Leaf Juice (Aloe Barbadensis), Organic Alcohol, Organic Glycerin, Organic Peppermint Leaf Extract (Mentha Piperita), Rose Distillate, Organic White Willow Bark Extract (Salix Alba), Organic Sugar Cane Extract (Saccharum Officinarum), Organic Bilberry Fruit Extract (Vaccinium Myrtillus), Organic Sugar Maple Extract (Acer Saccharinum), Organic Orange Peel Extract (Citrus Sinensis), Organic Lemon Peel Extract (Citrus Limon), Organic Cranberry Fruit Extract (Vaccinium Macrocarpon) Organic Content: 95% Keep out of eyes. Do not ingest. Waterfall Glen Soap Company, llc. is not responsible for any individual reaction to any particular ingredient. People with sensitivities to any listed ingredient should not use. In case you are in doubt or have sensitive skin, try on a small area. If at any time irritation occurs discontinue use.
Shipping Policy:  We try to ship same or next day via USPS mail and Priority Mail.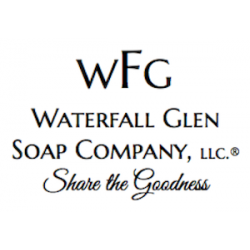 We began making soap in our kitchen for family and friends in the early summer of 2013.  Later that year, we created the foundation of Waterfall Glen Soap Company (named after the forest preserve in our backyard).   We recently moved to Belle...