Never Give Up Sterling Silver Dog Tag Necklace
Never Give Up Sterling Silver Dog Tag Necklace
This product is aligned with 6 values
Wear my Inspirational Never Give Up Sterling Silver Dog Tag Necklace when you are facing obstacles in life! Every day is a gift, even if it starts off wrong. Today more than ever we are constantly adapting and overcoming challenges. When life strikes, take that opportunity to not give up! Never, never, never give up! "Never, Never, Never Give Up!" said Winston Churchill more than 70 years ago, and those five words continue to inspire to this day. These inspirational necklaces has been gifted to hundreds of men and women who are fighting a life altering setback or illness and from the testimonials, the message works to give courage when needed the most. Much more than just beautiful accessory, this inspirational jewelry is very meaningful. While other jewelry genres may be used just for fashion or fun, inspirational jewelry can also hold special meaning for the wearer. This NEVER GIVE UP Necklace will keep you going through difficult times in life. The sterling silver dog tag is 1 Inch. Handmade with Love in California.
Here we gathered the most Frequently Asked Questions. Should we did not answer yours, please email us at Szilvia@GoghJewelryDesign.com


Q: Can I get my order gift wrapped?
A: Yes. Upon request we can gift wrap items in your order for an $5.00
You will be able to select Gift Wrap at Checkout.


Q: Can I order an item in a different size than it is listed (shorter/ longer)?
A: Yes, just please send us an email with your request and we will be happy to accommodate!


Q: Do you ship internationally?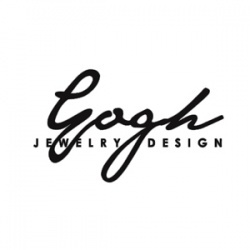 I started my jewelry design business 20 years ago because I love beautiful things, but as an active woman, I couldn't find any silver jewelry that was both meaningful and functional - so I started creating jewelry myself. I wanted to wear jewelry...