Nova 
The Cosmic Circles are Sun Light catcher window clings.
All original designs hand created by Kara Rane ©️
Eco~friendly printing by Greenerprinter, Berkeley Ca.
The Cosmic Circles are Infinitely Re~Usable. There is no adhesive on the back. Instead they use surface energy to "cling" on windows, glass, mirrors,, any non-porous surface. 
Easy to Use, Remove and Re-Use.
The large size Cosmic Circles are 6" x 6" circular and image size is 5.75 " x 5.75" Shipped flat in a 100% recycled biodegradable envelope. Ready to adorn your Life. The best gift ever!
Thank Y♡U kindly ~ Kara Rane ©
*sale of Art products does not transfer copyright*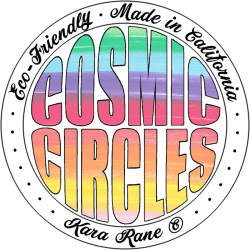 ...