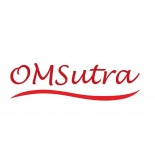 OMSutra
OMSutra is a yoga and lifestyle brand committed to empowering women & artisan groups while generating a socio-economic impact by preserving the heritage craft of India.

Add Review
OMSutra
OMSutra is a New York-based yoga and lifestyle brand born with a desire to preserve the beauty of deeply rooted rich craft traditions of India by supporting the artisan communities who uphold these traditions, as well as providing capacity and skills development to those in need.




Their primary objective is to promote socially responsible design through cultural sustainability and to help create a quality product with an appeal to the global market while generating income opportunities and creating a social change for the artisans who have less access to the source of income.




Each of their exquisite products is handcrafted with love, care, and attention to detail and is either hand-stitched, hand-dyed, hand-printed, or handwoven, reflecting the extraordinary traditional skills and craftsmanship of each artisan.




Your purchase will help to support and create more employment opportunities for the artisans and the women groups and to help alleviate poverty for a sustainable livelihood.



OUR VALUES
Hypoallergenic
Products, especially of cosmetics and textiles, that are relatively unlikely to cause an allergic reaction
Phthalate Free
Products free from phthalates, a huge class of harmful chemicals, posing a wide range of negative health impacts, that can be found in everything from household cleaners to food packaging to fragrance, cosmetics, and personal-care products.
PVC Free
Products made without polyvinyl chloride, another harmful chemical causing varying health issues and occurring in countless household and personal items.
Dye and Additive Free
Food or cosmetic products without dye, pigment, or color enhancing substances
Compostable
Objects which are capable of breaking down and returning to the natural environment without any negative impact.
Biodegradable
Objects which are capable of decaying and potentially contributing to a given ecosystem.
Cruelty Free
Manufactured or developed by methods that do not involve experimentation on animals.
Empowers Women
Organizations, companies, and spaces which support gender equality and women's rights.
Ethically Sourced
Products which are produced without compromising the people who execute the production.
Fair Trade
Trade between companies in developed countries and producers in developing countries in which fair prices are paid to the producers.
GLOBAL GOOD
We actively work to meet the following UN Sustainable Development Goals:
Good Health
Gender Equality
Decent Work And Economic Growth
Responsible Consumption And Production