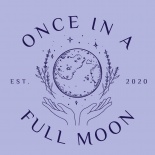 Once in a Full Moon Shop
Focused on what is good for the mind, body and soul. Soy Candles, Essential Oil blends, Soaps and Gemstone Jewerly www.onceinafullmoon.com

Add Review
Once in a Full Moon Shop
Spiritually inspired natural products, focused on a healthy and balanced mind, body and soul.  We use 100% premium soy wax ,  no blends ,  and essential oils for natural  benefits through aromatherapy.
OUR VALUES
BPA Free
Products that are made without bisphenol A, a chemical found in some plastics which has been reported to cause negative health effects on the brain and prostate gland.
Non-Toxic
Products designated to be edible or non-poisonous to consume.
Paraben Free
Products free of parabens, or cosmetic/pharmaceutical preservatives, which have been reported to cause breast cancer, among other issues.
Petroleum Free
Products made without the presence of petroleum, which passes itself off as a moisturizer, but is truly a pore-clogging substance.
Phthalate Free
Products free from phthalates, a huge class of harmful chemicals, posing a wide range of negative health impacts, that can be found in everything from household cleaners to food packaging to fragrance, cosmetics, and personal-care products.
Dye and Additive Free
Food or cosmetic products without dye, pigment, or color enhancing substances
GLOBAL GOOD
We actively work to meet the following UN Sustainable Development Goals:
Good Health
Responsible Consumption And Production
Life On Land